EXCLUSIVE: The facility has been installed at Mocha Chai Laboratories.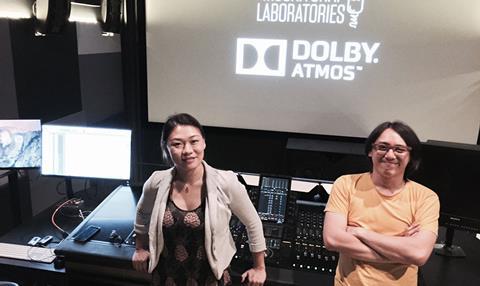 Mocha Chai Laboratories (MCL) has become the first Singapore post-production facility to install Dolby Atmos as well as the world's first to fit a Dolby Atmos mixing theatre with Christie's Vive cinema audio system.
Taking charge of the new mixing theatre is award-winning sound designer Lim Ting Li whose most recent work is Boo Junfeng's Apprentice, which premiered at Cannes' Un Certain Regard this year.
Lim recently joined MCL as director of sound. She graduated from the National Film & Television School in London with an MA in sound design. Her recent awards include the Verna Fields Award in sound editing at the MPSE Golden Reel Awards in Los Angeles and the best sound designer award at the 2013 Underwire Festival in London.
With the addition of a mixing theatre, MCL is now Singapore's first fully integrated digital film lab, offering final mix, online finishing and colour grading all under one roof.
For colour grading, the company has also installed at its new and expanded facility a five metre wide projection screen using Barco's 2K digital cinema projector and a Sony BVM-X300 OLED monitor for 4K HDR pictures.
Popeye, Kirsten Tan's feature debut produced by Ilo Ilo director Anthony Chen, and documentary filmmaker Tan Pin Pin's new untitled work will be the first from Singapore to be mixed in Dolby Atmos at MCL.
"Gone are the days when Singaporean filmmakers had to travel to other countries such as Thailand and Hong Kong just to have their final picture grade and cinema sound mix properly done. We also aim to cater for filmmakers from South East Asia to make use of our new facility," says filmmaker-turned-entrepreneur Chai Yee Wei.
MCL was launched by Chai as a digital film lab specialising in DCP in 2012 when not many options were available at that time for filmmakers like himself. He has previously directed four films, including two horrors, Blood Ties and Twisted, and two musicals, That Girl In Pinafore and The Voice Of China - I Want You.