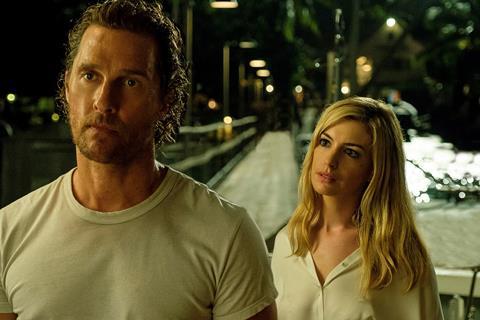 Sky has added three titles to its Sky Cinema Original Films day-and-date slate.
'Original' titles are released in UK theatres and on Sky Cinema on the same day, with Altitude handling theatrical distribution.
The new titles are: Ted Bundy crime drama Extremely Wicked, Shockingly Evil And Vile starring Zac Efron and Lily Collins; Life Itself - written and directed by Dan Fogelman and starring Oscar Isaac, Olivia Cooke and Antonio Banderas; and Serenity with Matthew McConaughey and Anne Hathaway.
The UK release dates have not yet been confirmed.
Already announced upcoming football action film Final Score starring Dave Bautista is set for a September 7 release.
The first three titles in Sky's Original push, which was announced in January, were Rob Cohen-directed action movie The Hurricane Heist, Clive Owen and Amanda Seyfried-starring sci-fi Anon and family animation Monster Family, which rolled out on 137 screens in March, a record for a day-and-date release in the UK.
Sky faces a challenge with its day-and-date push as none of the UK's major multiplex chains - Odeon, Cineworld and Vue, which between them operate around 64% of UK cinema screens - will programme the films due to their adherenece to traditional theatrical windows.
Monster Family grossed more than £350,000 in the UK, backed by a significant marketing campaign from the broadcaster, while Anon only managed £30,000 after two weeks on release.