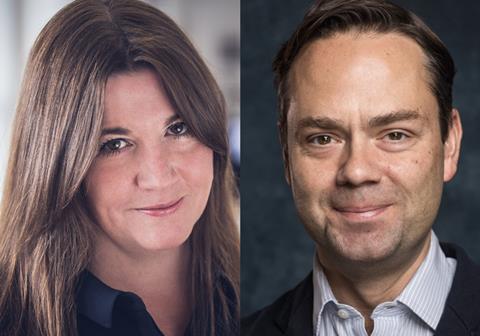 Sky Studios, the production arm of European pay-TV giant Sky, have added The Ink Factory's former creative director and the producer of Netflix's The Bastard Son & The Devil Himself as it ramps up its drama team under UK & Ireland chief Meghan Lyvers.
Katherine Butler has joined the studio as director of drama commissioning for UK&I, while Adrian Sturges joins as executive producer. Butler effectively replaces Gabriel Silver, who departed in September, and will join in the new year. Sturges takes up his role this month.
Butler will be responsible for overseeing Sky Studios' slate of commissioned drama projects, managing her team of commissioning editors, Manpreet Dosanjh, Paul Gilbert and head of development Tilly Coulson.
At The Ink Factory, where she served as creative director, Butler had oversight for the creative strategy of the business across its US and UK bases, working with the team to build scripted slates in London, LA and Asia. She also exec produced across its TV and film projects.
Prior to this, she served as head of film and TV drama at Raw, and has also served as deputy head of film at Film4, and head of development at Ruby Films.
As exec producer, Sturges will work directly with indie-commissioned projects and projects developed and produced in-house, steering production, execution and delivery of Sky originals. He will work alongside current Executive Producers Sam Hoyle, Serena Thompson and Kara Manley.
Before joining Sky, he worked as a freelance producer, most recently producing on Joe Barton's supernatural Netflix series The Bastard Son & The Devil Himself, from Andy Serkis and Jonathan Cavendish's The Imaginarium.
Sturges produced tentpole Channel 4 drama Chimerica before producing psychological thriller The Third Day starring Jude Law and Naomie Harris for HBO/Sky Studios in 2019.
Sky Studios has a busy, high-profile drama slate including Lockerbie, the recently announced reboot of The Day of the Jackal, The Tattooist Of Auschwitz and Mary And George.
Butler and Sturges will report into Lyvers, who joined Sky Studios in June from CBS Studios International.
Since then, the Cécile Frot-Coutaz-run outfit has undergone a period flux within its scripted teams.
In-house creative director Preethi Mavahalli left for Ben Stephenson's Poison Pen label after a year in the role, and was subsequently followed out of the door by Silver, fellow drama commissioner Liz Lewin and production head Amanda Wilkie-Sweeney.
Lyvers said Butler and Sturges' additions will help fulfil "our commitment to build an increasingly ambitious and provocative slate of premium dramas".
This story first appeared on Screen's sister site Broadcast