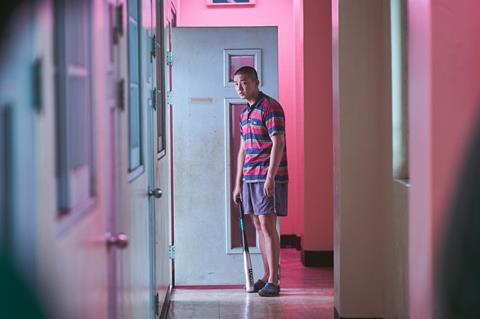 EuiJeong Hong's South Korean thriller Voice Of Silence has won the 25th anniversary edition Fantasia International Film Festival's Cheval Noir award for best film.
Hong's film follows a mute low-level gangster tasked with taking charge of an 11-year-old kidnapped girl from a wealthy family. The jury described Voice Of Silence as "impossible to pin down, and truly idiosyncratic. Put simply, it's unlike anything we'd seen before".
Juried awards
In other Cheval Noir awards Yoo Ah-in who plays the mute man won best actor while Zelda Adams was named best actress for Hellbender (USA). Igor Legarreta was named best director for All The Moons (Sp-Fra), Mark O'Brien best screenplay for The Righteous (Can), and John Adams best score for Hellbender.
Special mentions went to the cinematography of Imanol Nabea in All The Moons, Sienna Sayer of UK horror Martyrs Lane for rising star, and Stef Lernous for sound design on Hotel Poseidon (Bel).
New Flesh Award For Debut Film went to Rob Jabbaz's The Sadness (Taiwan) and there were special jury mentions for Junta Yamaguchi's Beyond The Infinite Two Minutes (Jap) and Kazuaki Seki's Office Royale (Jap).
In the International Short Film Competition Eiji Tanigawa's Vulnerability (Japan) was named best film, Cory Williamson (Silly Human, USA) best director, Steph Kwiatkowski (Rachels Don't Run, USA-Fra) best screenplay, Victoria Villier (Inheritance, USA) best actress, and Ian Cramer (Other Bodies, USA) best actor. Special jury mentions went to The Tenant (Spa) from Lucas Paulino and Ángel Torres and Henchmen (Sing) from Alistair Quak.
The AQCC - Camera Lucida Prie was presented to The Story Of Southern Islet (Mal) by Chong Keat Aun, and Dodo Dayao's Filipino entry Midnight In A Perfect World earned a special jury mention.
The Axis: Satoshi Kon Award For Excellence In Animation went to Dash Shaw's Sundance and Berlinale selection Cryptozoo (USA) with a special jury mention going to Fortune Favors Lady Nikuko (Jap) from Ayumu Watanabe. Gold, silver and bronze short film awards went to Adithi Krishnadas's Seen It (Ind), Joe Cappa's Ghost Dogs (USA) and Suki's Mondo Domino (France), respectively.
Audience awards
In the audience awards, Yamaguchi's Beyond The Infinite Two Minutes (Japan) took gold in the best Asian feature category, while silver went to Kwon Oh-seung's Midnight (South Korea) and bronze went to Jabbaz's The Sadness from Taiwan.
The best international feature gold prize went to Legarreta's All The Moons (Sp-Fra), silver to Rob Schroeder's Ultrasound (USA), and bronze to King Knight (USA) by Richard Bates, Jr. Best Canadian feature gold went to Dreams On Fire (Can-Jap) by Philippe McKie, silver to O'Brien's The Righteous and bronze to Julien Knafo's festival opener Brain Freeze.
In the documentary categories Kier-La Janisse took gold for Woodlands Dark And Days Bewitched: A History Of Folk Horror (USA), while Lucy Harvey and Danielle Kummer's UK entry Alien On Stage earned silver and Pascal-Alex Vincent's Satoshi Kon, The Illusionist (Fra-Jap) took bronze.
The animated feature gold award went to Phil Tippett for Mad God (USA), silver to Hayop Ka! The Nimfa Dimaano Story (Phi) by Avid Liongoren and bronze to Masashi Ando and Miyaji Masayuki for The Deer King (Jap). Mad God was also named most ground-breaking film of the festival
Best international short gold went to Digital Video Editing With Adobe Premiere Pro: The Real-World Guide To Set Up And Workflow (SK) by Hong Seong-yoon, silver was a tie between Dana (Spa) by Lucía Forner Segarra and Viewers:1 (Jap) by Daigo Hariya and Yosuke Kobayashi), and bronze went to Death And The Winemaker (Swi) by Victor Jaquier.
The Best Canadian short gold went to Freya by Camille Hollett-French, silver to Fruit by Ivan Li, and bronze to She Whistles byThirza Cuthand.
The hybrid festival closed on Wednesday night with an in-person international premiere screening of Takashi Miike's The Great Yokai War – Guardians. It opened with the world premiere of Julien Knafo's Brain Freeze on August 5 following a special screening of James Gunn's The Suicide Squad on August 4.
The 25th edition included 25 feature film world premieres, 12 international premieres, and 34 North American premieres.