A round-up of the headlines from Star Wars Celebration including confirmation that Alden Ehrenreich will play the young Han Solo, behind the scenes footage from Rogue One and a Lucasfilm VR project based around Darth Vader.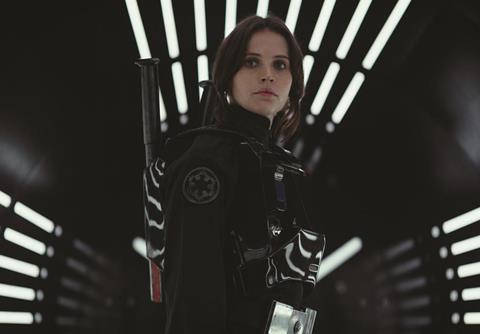 Lucasfilm has unveiled a raft of announcements and fresh footage at the Star Wars Celebration Europe event in London.
The annual fan gathering, which ran July 15-17 at the ExCel exhibition centre, hosted the cast and filmmakers behind Rogue One - the first standalone film in the Star Wars franchise.
British director Gareth Edwards (Monsters, Godzilla) screened a behind-the-scenes look at the film, set for release in December, as well as a new trailer (which has yet to be released online) that confirmed the presence of Darth Vader in the story.
Young Han Solo revealed
At the final panel of the weekend, Alden Ehrenreich was confirmed to play the young Han Solo in a Star Wars spin-off movie - casting that has been rumoured for months.
The 26-year-old actor, best known for roles in the Coen brothers' Hail, Caesar! and Beautiful Creatures, made a surprise appearance and told fans he was "very, very excited" about being cast in the role made famous by Harrison Ford.
"I auditioned for about six months," said Ehrenreich. "The coolest part of the audition process was I went on the [Millennium] Falcon."
Directors Phil Lord and Christopher Miller (The Lego Movie, 21 Jump Street) revealed that - despite seeing 3,000 actors for the part - Ehrenreich was the first person who auditioned.
The movie, thought to be titled Han Solo: A Star Wars Story, will begin filming in the UK in early 2017 and is set for release May 25, 2018.
Darth Vader VR
A virtual reality experience with Darth Vader as the lead character is in the pipeline, with Batman Begins writer David S. Goyer collaborating with Star Wars VFX wizards Industrial Light & Magic.
Goyer joined ILM'x xLab immersive entertainment division on stage at Celebration to reveal the as-yet-untitled project, which will be an original story set within the Star Wars universe.
"You are the visitor in this story that is happening in and around you, and to a certain extent you might even have some effect on [the narrative]," said Goyer.
"You can pick up things, you can open things. You can push things, you can walk. You can touch characters."
It marks a further move into VR for xLab, which showcased its lightsaber game Trials on Tatooine at Celebration. In that game, the player has to fend off an attack from stormtroopers on the desert planet Tatooine, using a lightsaber to deflect laser shots.