Disney's Inside Out continues its excellent run to reach $53m (£34.5m); Curzon Artificial Eye's 45 Years records one of the strongest site averages of the weekend with $508,000 (£331,197) debut from 68 sites.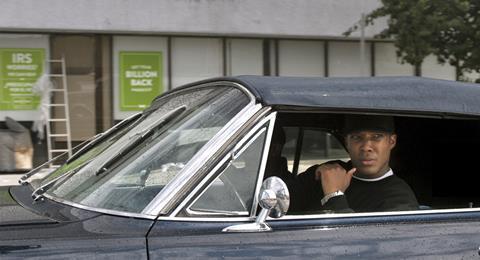 UNIVERSAL
Replicating its chart-topping domestic bow, Straight Outta Compton dethroned Paper Towns to debut top of the UK box office.
Universal's biopic scored a strong $3.8m (£2.5m) bow from its 429 sites, marking the distributor's seventh number one debut of 2015 to date. Including Bank Holiday Monday [Aug 31], Compton stands at $4.9m (£3.22m).
Its $3.8m (£2.5m) opening is director F. Gary Gray's best-ever UK debut, topping The Italian Job's $3.5m (£2.29m) from 428 sites. Straight Outta Compton will likely challenge that film's $11.7m (£7.6m) performance as his best-ever result.
Also for Universal, Minions fell just 10% in its tenth weekend to take a further $544,000 (£354,092) for a tremendous $69.9m (£45.52m) to date, while Trainwreck is up to $4.45m (£2.9m) after a $386,000 (£251,514) third weekend.
DISNEY
Falling just 13% in its sixth weekend, Inside Out added $1.8m (£1.2m) as it remained in second.
Disney's latest Pixar outing has now reached $53m (£34.5m) after an excellent run, and will shortly overtake Up ($53.1m/£34.59m) to become the fourth highest grossing original animation of all time in the UK.
With school holidays over, Inside Out will now again rely on weekend grosses to see it challenge fellow Pixar releases Finding Nemo ($57.5m/£37.5m) and Monsters Inc ($58.1m/£37.9m).
Also for Disney, Ant-Man picked up a further $158,000 (£103,000) for a tally-to-date of $24.7m (£16.1m).
CURZON ARTIFICIAL EYE
One of the strongest performances of the weekend came from Curzon Artificial Eye's 45 Years with a terrific $508,000 (£331,197) bow, including previews, from its 68 sites.
That marks a $7,477 (£4,871) site average for Andrew Haigh's critically acclaimed drama, the second strongest of the top 15 behind Straight Outta Compton. Including Monday, 45 Years has grossed $739,000 (£481,187).
45 Years has already taken over double the final result of Haigh's previous feature Weekend.
FOX
Hitman: Agent 47 shot to a $1.5m (£960,475) debut, including $262,000 (£170,897) in previews, from its 453 sites to chart third.
Fox's action reboot is up to $1.9m (£1.22m) as of Monday, still narrowly behind the three-day opening of the 2007 Hitman film which went on to gross $5.5m (£3.6m) in the UK.
It's worth noting that without its previews, Hitman: Agent 47's Fri-Sun tally of $1.2m (£789,578) would have seen it chart fourth.
Also for Fox, last week's champion Paper Towns posted a $694,000 (£452,822) second weekend for $5.5m (£3.59m) to date, while Secret Cinema's production of The Empire Strikes Back has taken $7.5m (£4.87m) after 13 weeks of its run.
Fantastic Four and Mistress America have amassed $9.3m (£6.07m) and $821,000 (£535,399), respectively.
PARAMOUNT
Mission: Impossible - Rogue Nation is now the highest grossing outing of the series in the UK.
Paramount's latest mission for Ethan Hunt fell just 15% with a $1.4m (£888,000) fifth weekend and has now grossed $29.4m (£19.13m), overtaking Mission: Impossible's $28.6m (£18.65m) result.
SONY
Rounding off this week's top five was Sony's Pixels as it dropped a slim 19% on its way to a $1.02m (£665,000) third weekend, with a good Bank Holiday seeing it reach $10.4m (£6.8m).
WARNER BROS
The Man from U.N.C.L.E. hit the £5m mark in its third week following a $1m (£658,000) weekend.
Warner Bros' spy reboot is now up to $8.1m (£5.31m), and has at least overtaken RocknRolla's $7.8m (£5.12m) result in terms of Guy Ritchie's directorial outings in the UK.
Also for Warner Bros, Vacation travelled to a $396,000 (£258,000) second weekend for $2.2m (£1.45m) to date.
EONE
Sinister 2 scared up $874,000 (£569,694) in its second weekend for $4m (£2.6m) to date through eOne, and won't match Sinister's $10.1m (£6.6m) UK result barring a surge.
ENTERTAINMENT
The Bad Education Movie recorded a $707,000 (£461,045) second weekend through Entertainment for $2.6m (£1.67m) to date.
Also for Entertainment, Southpaw has grossed $12.8m (£8.36m) after six weeks in play.
STUDIOCANAL
We Are Your Friends landed with a soft non-final $400,000 (£260,715), including $78,000 (£50,621) in previews, from its 370 sites through StudioCanal.
Including Monday, the music drama is up to $530,000 (£344,905).
LIONSGATE
In its third weekend of release, Lionsgate's Absolutely Anything grossed $104,000 (£68,148) for $2.1m (£1.36m) to date.
Also for Lionsgate, The Gift has taken $2.8m (£1.83m).
UPCOMING RELEASES
This week sees saturation releases for Icon Film Distribution's The Transporter Refuelled, Sony's Ricki and the Flash and Entertainment's American Ultra.
eOne's No Escape, Fox's Me and Earl and the Dying Girl and Sony's Dope all receive wide releases, while Dogwoof's Cartel Land, Trinity Films' Buttercup Bill and New Wave Films' Closed Curtain are among the films receiving a limited release.