AUGUST 8 UPDATE: Disney/Pixar's Finding Dory will also soon become the fourth highest grossing release of 2016 to date worldwide.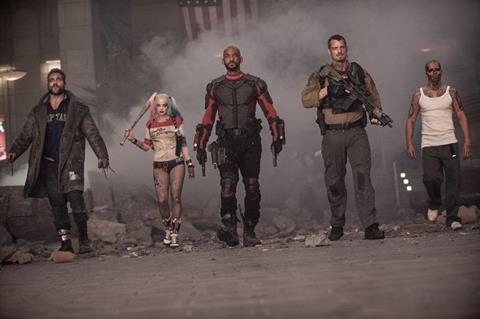 WARNER BROS PICTURES INTERNATIONAL
UPDATE: Defying negative reviews, Suicide Squad has shot to a record-breaking $133.3m overseas debut from its 57 territories, to mark the biggest August opening of all time and the second biggest DC opening ever.
The UK led the way with a fantastic $14.8m (£11.3m) three-day bow, while Russia provided the biggest opening of all time for Warner Bros with a terrific preview-boosted $11.4m debut.
Other highlights included an $11.75m opening in Brazil in the face of the Olympic Games and an outstanding $10.8m five-day debut in South Korea, while Australia and Mexico both landed the top spot with $10.5m and $10.4m, respectively.
The comic book adaptation also scored the all-time August opening record for an IMAX film with $7m from 254 screens. Overall, it's also the fifth biggest Warner Bros overseas bow ever and its debut surpassed Deadpool's opening weekend.
Suicide Squad lands in Italy next weekend, followed by Germany on Aug 18 and Japan on Sept 10.
The Legend Of Tarzan has swung past the $200m mark at the international box office.
Warner Bros/Village Roadshow's reboot took $8.3m from its 53 markets for $211.4m so far. Among its holdovers, it posted a $1.2m second weekend for $4.02m to date in Germany.
Led by a $1m opening in Germany, Lights Out scared up $5.7m from its 42 markets for an early $31.1m.
New Line's horror landed top in Italy with a strong $655k bow from its 238 screens, and creeps into the major markets of the UK, Brazil, Spain, France and South Korea over the coming weeks.
LE VISION PICTURES
Big-budget action adventure Time Raiders landed top in China with an estimated $70m debut, according to ComScore.
The film also grossed $5m from IMAX screens.
UNIVERSAL PICTURES INTERNATIONAL
UPDATE: Powered by a $29.3m debut in China, The Secret Life Of Pets enjoyed a $69.3m weekend from its 41 territories for $183.4m to date, and has now crossed $500m worldwide.
Illumination Entertainment and Universal Pictures' animation also opened in South Korea at number five with $6.9m, while it topped the chart in Spain with a superb $4.3m bow.
It also landed in the likes of the Netherlands ($2.7m), Belgium ($1.2m), Sweden ($1.2m) and Denmark ($1.2m), as well as holding the top spot in Germany with a $4.2m second weekend for a local tally of $15.2m.
With 24 more territories to open, The Secret Life Of Pets hops into Egypt, Czech Republic, Japan, Serbia and Montenegro, Slovakia and Slovenia next weekend.
Jason Bourne posted a $20.1m second weekend from its 50 international territories for an early $91m.
In its four new markets, it posted the best opening for the Bourne series and in the UK, it added $3.1m for $18.4m after 12 days in play. Next weekend, it speeds into the likes of France, Germany and Chile.
Blumhouse Productions and Platinum Dunes' The Purge: Election Year grossed $1.3m from its 26 territories for $20.2m to date, while New Line Cinema and Universal Pictures' Central Intelligence now stands at $80,1m overseas.
WALT DISNEY STUDIOS MOTION PICTURES INTERNATIONAL
Currently standing at $870.3m, Finding Dory will soon pass Batman v Superman ($872.2m) as the fourth highest grossing film of 2016 to date, meaning that Disney will have released the top four films of the year globally.
Overseas, Pixar's latest swum to an extra $11.5m from its 31 territories for $396.4m so far, with Japan becoming its leading overseas market with $40.9m after four weekends in play.
In the UK, Finding Dory stands at an impressive $26.4m after only 10 days in play, while France has amassed $20.5m following a 34% drop this weekend.
FOX INTERNATIONAL
UPDATE: Landing in the UAE with $837k, Ice Age: Collision Course rolled to an additional $11.5m from its 73 markets for $234.6m overseas.
Solid holdovers in France ($1.6m for $18.7m) and Germany ($1m for $21.3m) led the weekend, with the animated sequel set to open in Italy and China on Aug 22 and Aug 23, respectively.
Independence Day: Resurgence took $3m from its 33 markets for $276.7m to date, and opens in its final market of Italy on Sept 8.
With a dazzling opening of $2.5m in Australia to chart third, Absolutely Fabulous: The Movie grossed $2.8m from its three markets for $24.8m, ahead of releases in New Zealand and Fiji next weekend.
Mike And Dave Need Wedding Dates stands at an early $12.5m.
SOUTH KOREA
Lotte Entertainment's historical melodrama The Last Princess looks to have missed out on top spot to Suicide Squad as it posted an estimated $10m bow, according to ComScore.
Finecut's Korean War action film Operation Chromite fought to a further estimated $9.5m for $33.5m after two weeks in play.
Becoming the first film to hit 10m admissions in South Korea this year, Train To Busan sped to an extra estimated $5.9m for a bumper $70m to date. Contents Panda (NEW) holds international rights.
SONY PICTURES RELEASING INTERNATIONAL
Ghostbusters captured a further estimated $6.4m from more than 6,600 screens for $62.8m so far overseas.
Paul Feig's reboot enjoyed a chart-topping $1.4m opening in Germany and added $765k in Russia for a local tally of $4.2m. It opens in the major markets of France, Mexico and Spain next weekend.
Ahead of its release in France (Aug 17) and Australia (Aug 18), The Shallows bit into an estimated $1.4m from its 17 markets for $16.4m to date.
LIONSGATE INTERNATIONAL
With no new openings, Now You See Me 2 conjured up $5.5m from its 84 markets for $248.7m internationally.
Summit Entertainment's sequel stands at $9.9m after two weeks of release in France and its next major opening comes in Germany on Aug 25.
PARAMOUNT PICTURES INTERNATIONAL
Star Trek Beyond phased to an additional estimated $5.3m from its 40 markets to lift its overseas tally to $66.5m.
On its third weekend in Germany and the UK, the latest USS Enterprise mission added $1.8m for $11.9m and $1.2m for $17m, respectively. It opens in France and South Korea on Aug 18, and in Spain the following day.
Teenage Mutant Ninja Turtles: Out Of The Shadows stands at $155.5m ahead of its release in Germany and Austria next weekend.
MISTER SMITH ENTERTAINMENT
Having opened in Norway, The BFG grossed $4.4m from its EMEA territories for $47.2m to date, with $26.45m coming from an excellent run in the UK.
BLOOM MEDIA
From its five territories, Skiptrace added an estimated $3.8m for $124.5m to date, according to ComScore.
STX ENTERTAINMENT
UPDATE: Opening in nine extra markets, Bad Moms brought in $2.96m from its 21 markets for an early $5.65m.
France was the best new opener with an $787k debut from 196 locations, followed by Belgium with $327k from 52 locations. The R-rated comedy lands in Australia, Sweden and the Netherlands next weekend.