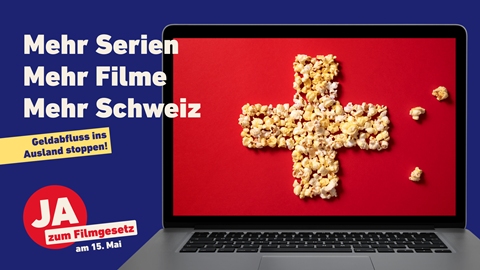 Swiss voters have backed proposals to make international streaming services such as Netflix, Disney+ and Amazon invest some of the revenues they generate in Switzerland into local filmmaking.
Under its system of direct democracy, Switzerland held a national referendum at the weekend on an amendment to the Federal Act on Film Production and Film Culture (FiG).
58.4% of voters backed the amendment requiring streaming services to invest 4% of their annual Swiss revenue from 2024 into local film and TV production.
The streamers will have up to four years to hit the 4% target.
They can either participate directly in the production of Swiss films and TV series or acquire completed titles.
In addition, they will be required to promote diversity in their programming by ensuring that at least 30% of the films shown are titles produced in Europe.
Switzerland follows other European countries, such as France and Italy, in introducing measures to boost locally-produced content.
Speaking at a press conference after the result of the referendum, Switzerland's Interior Minister Alain Berset said that the vote was "good news for culture in Switzerland and, of course, for the film and audiovisual industry."
According to Switzerland's Federal Office for Culture (BAK), the investment obligation will generate an additional CHF 18m (£14.5m, $18m) annually for the local film and TV industry.
This would supplement the current CHF 21m ($16.9m, $21.1m) in support each year from BAK.
A further CHF 18m (£14.5m, $18m) comes from Switzerland's regional film funds and CHF 36m (£29m, $36.1m) from national public broadcaster SRG as a co-producer of Swiss feature films and commissioner of locally-produced TV films and series.
Opponents to the amendment had argued that the investment obligation could lead to the streamers increasing subscription charges for their services.