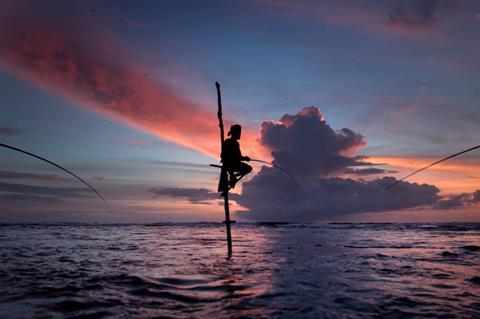 "Black Nights brings the world's films, film professionals and projects, top-end politicians and decision makers from the private sector to Tallinn," says festival director Tiina Lokk of Black Nights, which was classified by FIAPF as an A-list event in 2014.
Local producer Ivo Felt sums up the event's importance to the local industry: "That can't be underrated. For a small country, as we are, to have such a festival is a big thing," Felt said. "Thanks to the festival, we are getting more attention for our own films. On the film production side, [the festival] allows us to become very connected with other filmmakers throughout the world and to make co-productions. It brings us all together, our own films first, co-productions second and cash rebate and production services third."
This year, as the quality of production in all the Baltic countries has steadily improved, Lokk and her team have re-established the Baltic Film Competition. The thinking here is to give festival visitors "a compact introduction to the best of what is going on in the region." The Estonian Film Competition serves a similar function.
There will also be a two-day showcase of short films from the Baltic countries called the Baltic Preview. Shorts, the festival director notes, nurture feature directors, but are also a successful independent format in themselves "If someone asks if we are competitors, then in a good way, definitely, as it is the kind of natural and constructive competition," Lokk says of the relationship between Estonian filmmakers and their counterparts in Latvia and Lithuania.
Competition titles
Black Nights aims to showcase a diverse range of titles. Its competition screens films with the potential to be picked up by distributors and sales agents and to reach a broad audience.
The 'Rebel with a Cause Competition' focuses on "strong statements and clear expressions in form and cinematic language" that don't fit in the framework of mainstream narrative cinema.
One of the festival's defining qualities is its broad-minded programming. "Our openness and equal attitude towards submissions from both minor and major film production countries has created a situation where we have the ability to [programme films] from a very interesting and nonconventional selection of countries," the festival director says ,
The selection has 23 world, 30 international and 15 European premieres.
Tom Lowe's Awaken is the opening film and was shot in 35 countries. Lokk has always been a huge fan of Godfrey Reggio's Koyaanisqatsi and was intrigued to discover that Reggio was an executive producer of Awaken alongside Terrence Malick.
Gender equality is a burning topic at every film festival and Black Nights is no exception. However, Lokk makes it clear "gender is the last thing we look at" when it comes to programming. "I would be offended if I found out my film was accepted to the competition programme of a film festival just because I am a woman."
"Way back in the beginning of the '70s, when I got involved in filmmaking, a woman in the team was a rare sight, like a woman on a ship — not taken seriously, even though gender equality and equal working conditions were formally guaranteed in the former Soviet Union," Lokk remembers. Today, she points out, female producers in Estonia outnumber their male equivalents. There are also many talented female directors and cinematographers. "I would even say that two thirds of the film world [in Estonia] is run by women, all the leading positions in Estonia belong to women and it is not because they were considered female exceptions or given the job on a quota. They made it through on their professional skills and are proud of that."
This year, the festival is launching a pilot small screen initiative called TV BEATS Forum. This will look at strategies for building up an internationally successful TV series production industry, and will feature case studies from the UK, Scandinavia, Russia and Estonia.
Black Nights' co-production market is now open to projects from all around the world and launches with a day dedicated to training and lectures on digital distribution and monetizing content. There will be sessions looking at ways of connecting audience development with project development and at using social media marketing for films.
Meanwhile, The Black Night Stars programme is being held for the second time. Lokk acknowledges that creating new Baltic movie stars "is not easy" but that the actors will be introduced to casting directors, agents, producers and film directors - and given the tools for building their potential international careers. "Considering that of last year's seven participants, four are now represented by an international agent, We have moved just a little step forward towards this goal."