The director is at the 33rd Jerusalem Film Festival to accompany a screening of Pulp Fiction.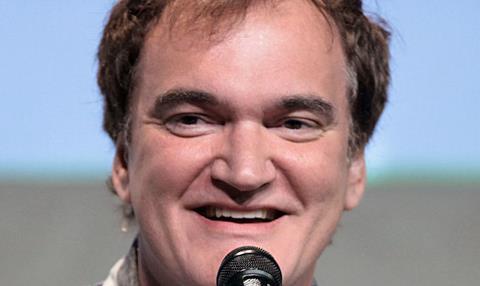 Iconic US film-maker Quentin Tarantino is one of a number of high-profile international guests attending this year's Jerusalem Film Festival (July 7-17). Tarantino is in town to accompany a screening of his 1994 feature, the Palme d'Or and Oscar-winning neo-noir black comedy Pulp Fiction. The film will be projected from a restored 35mm print from Tarantino's personal archive.
The sold-out screening will take place at the Cinematheque tomorrow at 10pm. The director will participate in a live on-stage conversation following the film. Tarantino, who last visited Israel in 2009 to promote his Second World War thriller Inglourious Basterds, will also be presented with a lifetime achievement award at the festival's opening ceremony tonight.
Another high-profile director attending the festival is Whit Stillman, who will participate in a Meet The Filmmaker event after a screening of his latest feature, the Kate Beckinsale-starring period comedy Love & Friendship, on Saturday at 5.45pm. Also taking part in Meet The Filmmaker sessions are Fenton Bailey (Mapplethorpe: Look At The Pictures), Laurie Anderson (Heart Of A Dog), Daniel Leconte (Je Suis Charlie) and producer Anthony Bregman, who is accompanying a screening of James Schamus's directing debut Indignation, which premiered at Sundance.
Further guests jetting into Jerusalem include actress Emma Suarez, who will attend the festival's opening-night screening of Pedro Almodovar's Julieta, in which she stars alongside Adriana Ugarte, and Rams director Grimur Hakonarson, who is on the jury for the international competition.
Tributes, classics and classes
Special events at this year's Jerusalem Film Festival include a series of tribute screenings to the late Israeli actress and film-maker Ronit Elkabetz, which make up this year's Moonlight Cinema strand (July 13-16) held at the historic Jerusalem railway venue The First Station. Entry is free.
The festival also ventures once again into the Old City, with free screenings taking place across venues including Hatkuma Garden and Muristan Square (July 12-14).
Films include Steven Spielberg's sci-fi drama A.I. Artificial Intelligence and Michael Curtiz's classic romance Casablanca, while Jaffa Gate will be home to video-art installations and projections of restored materials from the Israel Film Archive.
Elsewhere, the festival will host a new family-friendly cinema park at Harry Wilf Independence Park
(July 10-14). Activities will include a 100-metre zipline that creates the illusion of a moving film from a wall of still images, the opportunity to learn about film animation techniques such as stop-motion and zoetropes, and a green-screen experience that places the user in the desert, New York City or a car chase.
Television strand
This year's festival will host an international TV strand for the first time. JFF Series comprises four titles, each of which will have its first episode screened on Monday, July 11.
HBO and BBC crime series The Night Of, directed by Steven Zaillian and James Marsh, will be shown at 11.45am in a double-header with Baltasar Kormakur's Icelandic crime drama Trapped. Outcast, the supernatural horror series from The Walking Dead creator Robert Kirkman, will be shown before a screening of comedy horror BrainDead, from The Good Wife creators Michelle and Robert King.
JFF Series is a collaboration with Israeli satellite television provider Yes, whose acquisitions team helped festival organisers gain access to recent high-end productions.
Israeli television is sparser in the programme this year because of strict air dates, although documentary series House Call plays in the Israeli Cinema strand. "Television has rich cinematic and artistic values, which deserve to be presented on the big screen," says JFF artistic director Elad Samorzik.