Universal's comedy storms to an estimated $14.3m (£9.32m) opening; Fox's Diary Of A Wimpy Kid: Dog Days opens strongly in third.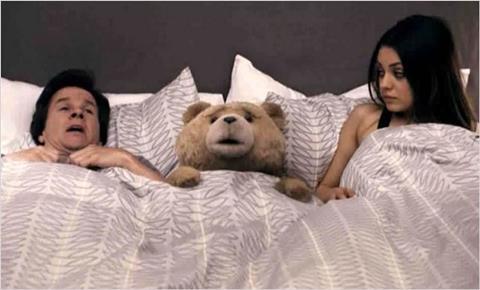 Despite Olympics fever hitting the UK over the weekend, Family Guy creator Seth MacFarlane's directorial debut Ted recorded an excellent debut to prevent The Dark Knight Rises from a third consecutive week at number one.
Universal's comedy took an estimated $14.5m (£9.32m) from 508 sites, which the distributor reported as both their widest opening ever and their second biggest debut in the UK behind Bridget Jones: The Edge Of Reason ($16.2m/£10.43m). It also ranks as the year's fourth-highest opening, only trailing major tentpoles The Avengers, The Dark Knight Rises and The Amazing Spider-Man.
However you look at it, Ted's opening is mightily impressive. Even without its Wed-Thurs previews of $5.3m (£3.4m), it would have still toppled TDKR, and when viewed in the context of 15 or 18-rated comedies at the UK box office, its debut is one of the biggest of all time, defeating the likes of American Pie: Reunion ($9.9m/£6.3m) and Borat ($9.7m/£6.2m) and even coming close to The Hangover: Part II's $16.2m (£10.4m).
Without any direct competition arriving in the UK for a few weeks - arguably, the arrival of The Watch on Aug 24 - Ted could be set for a long run in the UK.
Despite dropping to second, the climactic instalment of Christopher Nolan's Batman trilogy, The Dark Knight Rises, is still well on course for both a series and a year to date high.
Warner Bros.' crime superhero epic added $6.7m (£4.3m) for $63.9m (£40.9m) overall, ahead of both The Dark Knight ($54.1m/£34.7m) and The Avengers ($62.8m/£40.3m) at the same stage in their UK runs.
The week's second highest new entry belonged to Diary Of A Wimpy Kid: Dog Days in third.
Fox's threequel notched a decent estimated box office of $2.7m (£1.7m) from its 568 screens, marking a series-high opening for the franchise. Its targets are the $4.8m (£3.1m) and the $8.9m (£5.7m) total box offices of Diary Of A Wimpy Kid and its sequel Diary Of A Wimpy Kid: Rodrick Rules, respectively.
With no nationwide family competition arriving until Brave on Aug 13 (Brave is currently on release in Scotland and Ireland), Dog Days stands a solid chance of recording a series-high haul.
Still going well in its fourth week, with only a 16% drop, was Fox's Ice Age: Continental Drift.
The latest instalment in the ever-popular franchise grossed a further $2.1m (£1.3m) to stand at $38.7m (£24.9m), still behind Ice Age: The Meltdown and Ice Age: Dawn Of The Dinosaurs but currently the year's fourth-biggest film to date, behind the superhero trio of The Avengers, TDKR and The Amazing Spider-Man.
Rounding off this week's top five with a 34% fall in its second week was Universal's Dr. Seuss' The Lorax, which has now amassed $7.2m (£4.9m) after a $1.3m (£845,000) weekend.
Lionsgate's Magic Mike has now taken an excellent $11.9m (£7.6m) after four weeks.
This week's only saturation release belongs to Universal's Step Up 4: Miami Heat. Element's well-received comedy horror Grabbers receives a regional release in Ireland, while StudioCanal's The Dinosaur Project gets a wide release nationwide. Artificial Eye's 360 and Revolver's Offender (opens Aug 8) are among the films receiving a limited release.