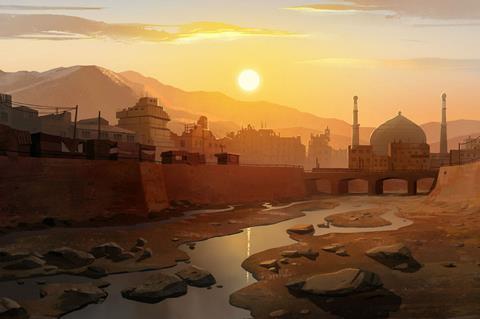 Nora Twomey's The Breadwinner received three prizes at the Annecy International Animation Festival (which ran June 11-16).
Scroll down for full list of winners
The film picked up the jury award and the audience award in the competition section, as well as the best original music for a feature film prize from the special awards. It is based on Deborah Ellis' novel and follows a young Afghan girl living in a Kabul, a city under siege.
Best feature film went to Denis Do's Funan, about a Cambodian family torn apart by the reign of the Khmer Rouge and featuring the voices of Berenice Bejo and Louis Garrel.
The jury also awarded a distinction prize to Cristóbal León and Joaquín Cociña's fantastical Chilean tale The Wolf House (La Casa Lobo).
This year's competition jury members were Brazilian writer-director Alê Abreu (The Boy And The World); French singer and composer Emily Loizeau; and Dan Sarto, publisher and editor-at-large of animation website and magazine Animation World Network.
The awards were staggered across two days, with 13 special prizes on Friday June 15 and the competition winners the following day.
Annecy 2018 winners
Feature films
Feature film - Funan
Jury award - The Breadwinner
Jury distinction - The Wolf House
Audience award - The Breadwinner
Short films
Best short film - Bloeistraat 11
Jury award - Weekends
Jean-Luc Xiberras award for first film - Egg
Jury award - Cyclists
Off-Limits award - Boy Transcoded From Phosphene / An Excavation Of Us (tied
Audience award - Weekends
TV & commissioned films
TV production - PIG: The Dam Keeper Poems 'Yellow Flower', 'Hello Nice To Meet You'
Jury award for a TV special - The Robot Chicken Walking Dead Special: Look Who's Walking
Jury award for a TV series - We Bare Bears 'Panda's Art'
Commissioned film - Leica 'Everything In Black And White
Jury award - Mark Lotterman 'Happy'
Graduation films
Graduation film - Barbeque
Jury award - Inanimate
Jury distinction - Hybrids
Special prizes
City of Annecy award - Butterflies
André Martin special distinction for a French short film - La Chute
André Martin award for a French short film - This Magnificent Cake
André Martin award for a French feature film - The Big Bad Fox And Other Tales
Short film award - Happiness
Distribution award - The Swallows Of Kabul
Best original music for a feature film - The Breadwinner
Best original music for a short film - Cadavre Exquis
FIPRESCI award - La Chute
Young audience award - Vivat Musketeers!
Junior jury award for a short film - The Death, Dad & Son
Junior jury award for a graduation film - Inanimate
Festivals Connexion award - Bloeistraat 11