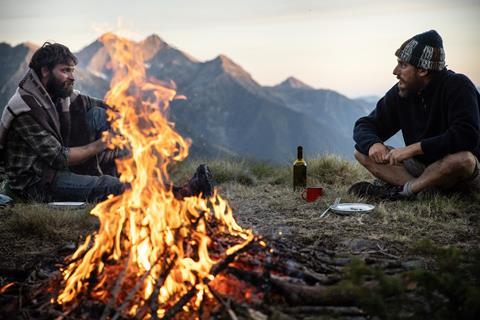 Vision Distribution has closed a raft of deals including one with Picturehouse Entertainment in the UK and Ireland for The Eight Mountains, the Cannes Competition title directed by Felix van Groeningen and Charlotte Vandermeersch.
Starring Luca Marinelli and Alessandro Borghi, the drama depicts a friendship between two men that began in their childhood growing up in a remote Alpine village and is reignited when they meet as adults.
Vision Distribution has also sold The Eight Mountains to Avalon for Spain, Camera Film for Denmark and TriArt Film for Sweden. In addition, the film was purchased by Selmer Media (Norway); Cinemanse (Finland); M2 Pictures (Poland); Kino Pavasaris (Baltic nations); and Beta Film (Bulgaria).
"Here is a film of heartbreaking beauty, emotion and enormous scale – both in terms of the visual grandeur and the emotional heft. Every frame is a painting," said Clare Binns, managing director of Picturehouse.
Other territory sales include to Czech and Slovak territories (Aero Films), Greece (One from the Heart), Portugal (Outsider Films), Turkey (Bir Film), Korea (JinJin) and Taiwan (Swallow Wings).
Vision Distribution said it is in negotiations for other territories including North America.
Vision will release The Eight Mountains in Italy and it will be released in France by Pyramide Films, in Benelux by Kinepolis and Dutch Filmworks, and in Germany, Austria and Switzerland by DCM.