Disney's continuation of the space saga posts third straight week as UK's number one; Paramount's Daddy's Home defies newcomers with an impressive hold.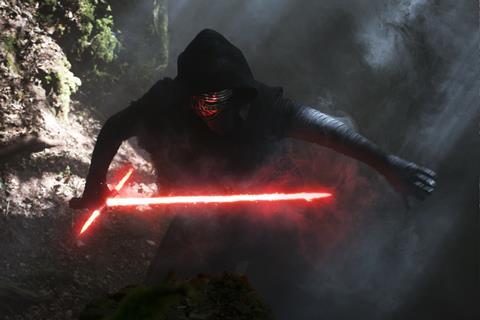 DISNEY
Star Wars: The Force Awakens will likely become the biggest film of all time at the UK box office at some point this week.
Disney's continuation of the space saga recorded a superb $15.1m (£10.2m) third weekend for a monumental $143.9m (£97.25m) after just 18 days in play, and one of those (Dec 25) saw most cinemas across the country closed.
On Saturday [Jan 2], The Force Awakens became the second biggest film of all time in the UK, overtaking Spectre ($139.1m/£94.25m) and Avatar ($138.8m/£94m). Skyfall's $152.7m (£103.2m) will be the next victim of the sci-fi's unparalleled run.
The weekend saw it set another daily record, with its $6.35m (£4.3m) haul on Saturday marking the biggest ever third Saturday at the UK box office.
Given the end of the festive period, it's uncertain whetherThe Force Awakens can make up the £6m midweek, but it's guaranteed to do so at some point this coming weekend.
Also for Disney, The Good Dinosaur made the most of the final weekend before the children go back to school, boosting more than 100% on its way to a $1.2m (£840,000) sixth weekend for $18.5m (£12.5m) to date.
Dilwale crossed the £2m mark with a $241,000 (£163,000) third weekend for a strong $3.2m (£2.15m) running total, meaning it will end its UK run as one of the top five Bollywood outings of all time.
PARAMOUNT
Daddy's Home has proven to be excellent counter-programming over the festive period as it recorded a strong second weekend of $4.3m (£2.89m).
Paramount's comedy is now up to $12m (£8.12m) after just nine days in play and, as expected, is now Sean Anders' best-ever UK performer. It has also overtaken the result of previous Mark Wahlberg/Will Ferrell collaboration, The Other Guys.
FOX
The week's highest new entry came in the form of Fox's Joy as it charted third.
David O. Russell's latest posted a non-final $2.2m (£1.51m) opening, including just over $155,000 (£105,000) in previews, from its 506 sites. Its Fri-Sun tally of $2.1m (£1.4m) would have also seen it chart third.
That marks Russell's third biggest UK bow, behind The Fighter ($3.1m/£2.11m from 394) and American Hustle ($5.1m/£3.47m from 411). Joy's first target will be to overtake Russell's first collaboration with Jennifer Lawrence, Silver Linings Playbook's $7.8m (£5.3m) result.
Also for Fox, Snoopy and Charlie Brown: The Peanuts Movie rounded off this week's top five with $1.9m (£1.29m) for $10.5m (£7.13m) after two weeks in play (plus extensive previews).
Bridge of Spies has grossed $10.1m (£6.84m) after six weeks in play.
UNIVERSAL
The Danish Girl charted fourth on its UK bow as it lost out to Joy in the battle of the awards contenders.
Universal's biopic grossed a steady non-final $2m (£1.37m) from its 511 sites. In terms of director Tom Hooper's outings in the UK, The Danish Girl ranks behind Les Misérables and The King's Speech, but ahead of The Damned United although that was only released in 236 sites.
Last January, fellow Eddie Redmayne biopic The Theory Of Everything launched with a much stronger $5.5m (£3.75m), including $1.2m (£802,598) in previews, although that biopic benefitted from a more recognized subject.
Also for Universal, Sisters is up to $3.5m (£2.37m) after a $237,000 (£160,238) third weekend.
WARNER BROS
After its soft two-day opening, Warner Bros' In The Heart Of The Sea posted a $638,000 (£432,000) second weekend.
Ron Howard's latest is up to $2.8m (£1.9m) and won't come close to the director's previous outing with Chris Hemsworth, Rush's $14.9m (£10.1m) result.
LIONSGATE
In its seventh weekend, Lionsgate's The Hunger Games: Mockingjay - Part 2 took a further $516,000 (£349,153) for $42m (£28.46m).
Also for Lionsgate, Brooklyn has grossed a sturdy $7.5m (£5.08m).
SONY
It may have been outpaced by Star Wars, but Spectre has its own achievement to celebrate.
Sony's latest Bond mission added $404,000 (£274,000) for $139.1m (£94.25m) to date, making it the third biggest film of all time at the UK box office ahead of Avatar's $138.8m (£94m).
ICON FILM DISTRIBUTION
Released in 15 sites through Icon Film Distribution, rom-com Sleeping with Other People posted a UK debut of $15,000 (£10,100).
UPCOMING RELEASES
This week sees a saturation release for Entertainment's The Hateful Eight, as well as limited releases for Studiocanal's A War, Altitude's Bolshoi Babylon and Metrodome's Partisan, among others.