Disney's continuation of the space saga shows no sign of slowing down; Paramount's Daddy's Home posts strong $2.4m (£1.62m) two-day opening.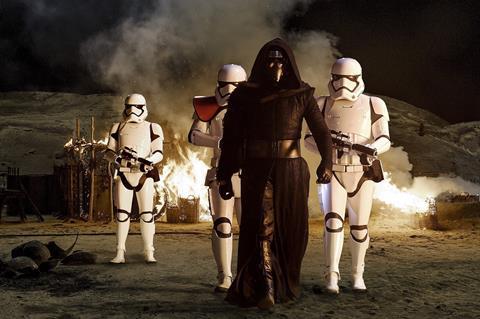 DISNEY
Star Wars: The Force Awakens has continued its relentless charge up the all-time list at the UK box office.
Even with most cinemas closed on Friday [Dec 25], Disney's continuation of the space saga scored a $15m (£10.16m) second weekend as it comfortably retained the top spot for the second straight week. Despite the opening effectively spanning two days, the result ranks as the fourth-biggest second weekend in the UK.
Including Monday [Dec 28], The Force Awakens is up to a remarkable $106.7m (£72.1m) after just 12 days in play. Yesterday's tally of $9.3m (£6.25m) broke its own $8.6m (£5.83m) record for the biggest ever Monday at the UK box office.
The Force Awakens currently ranks as the seventh biggest film of all time and by the end of this coming weekend, it will be at least the fourth biggest film of all time which is currently Titanic's $118.6m (£80.1m).
Today [Dec 29] will see it become Disney's biggest release ever in the UK, currently Toy Story 3's $109.5m (£74m) haul.
If it continues at this remarkable rate - which has seen it become the first film ever to hit £50m in seven days - The Force Awakens could be close to overtaking Spectre as the year's biggest film to date.
Also for Disney, The Good Dinosaur added $592,000 (£400,000) over the weekend and a further $555,000 (£375,000) yesterday to reach $15.5m (£10.5m).
Dilwale posted a second weekend of $516,000 (£349,000) through Disney's UTV distributor and now stands at $2.7m (£1.8m).
FOX
After previewing throughout December, Fox's Snoopy And Charlie Brown: A Peanuts Movie posted an overall UK debut of $5.4m (£3.64m) from its 563 sites to chart second.
Over its opening weekend (effectively just Sat-Sun), the film took $883,000 (£594,819) with its ten days of previews providing the chunk of its opening at $4.5m (£3.04m).
A healthy gross of $774,000 (£521,808) yesterday means A Peanuts Movie is up to $6.2m (£4.16m) and indicates a positive week ahead with the film aiming to make the most of the school holidays.
PARAMOUNT
From just a two-day opening, Paramount's Daddy's Home recorded a strong $2.4m (£1.62m) debut from its 436 sites to land third.
That marks director Sean Anders' best-ever UK bow, ahead of Horrible Bosses 2's $1.9m (£1.26m) from 438 sites, and it will soon overtake that film's $5.4m (£3.6m) result as Anders' best-ever performer.
Officially, Daddy's Home will rank behind the $2.9m (£1.98m) debut of the previous Will Ferrell/Mark Wahlberg comedy The Other Guys. However, taking into account the third day of release for Daddy's Home yesterday, it is ahead of that three-day opening at $3.9m (£2.61m).
WARNER BROS
Like Daddy's Home, Warner Bros' In the Heart of the Sea sailed into UK cinemas on Saturday [Dec 26] and posted a $660,000 (£446,000) debut from its 514 sites.
Even taking into account its Monday gross, the $1m (£689,000) opening for the film ranks as one of director Ron Howard's lowest UK bows, some way short of Howard's last collaboration with Chris Hemsworth, Rush's $3.1m (£2.1m) from 457 sites.
UNIVERSAL
Sisters couldn't repeat its strong domestic hold at the UK box office as it dropped more than 50% (excluding previews).
Universal's comedy added $212,000 (£142,387) for a running total of $2.9m (£1.95m). This coming weekend will give an indication as to whether the drop was predominantly down to most cinemas being shut on Christmas Day.
UPCOMING RELEASES
This week sees saturation releases for Fox's Joy (after a limited opening in London) and Universal's The Danish Girl.
Icon's Sleeping with Other People, StudioCanal's At Any Price and Signature Entertainment's Fall of the Krays are among the films receiving a limited release.