Programmers at the eighth Buenos Aires market handed out their annual awards on Friday when several titles rose to the top and the judges also unveiled selections from a vibrant inaugural animation section.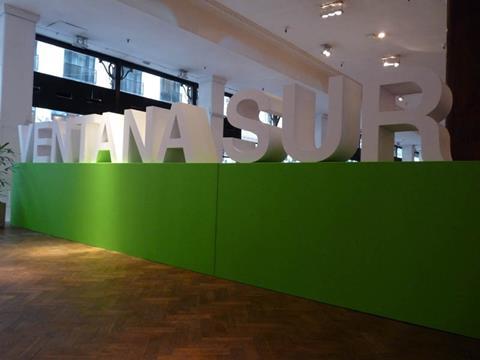 Mexican director Natalia Beristain's The Goodbyes (Los Adiosos) from Woo Films, Zamora Films and Chamaca Films earned the European Vision Prize in the Primer Corte section for projects in post-production.
The Mexico-UK-Poland drama also won the HD Argentina Prize in the Latin American Vision section and tells of the life of renowned Mexican author Rosario Castellanos and her love for Ricardo Guerra.
Also in Primer Corte, the Film Francais Prize went to another multiple winner, Marcelo Caetano's Brazilian entry Body Electric (Corpo Electrico), which also scooped the Habanero Award and the Sofia Films Award in the Latin American Vision category.
The film from Desbun Filmes and África Filmes centres on a man from the northeast of Brazil who arrives in Sao Paulo and strikes up an eye-opening relationship with an African immigrant.
In the fast-growing Blood Window genre sidebar, the Spanish-born Argentinian auteur Adrian Garcia Bogliano's Mexico-US-Sweden- Finland-UK Black Circle (Svart Cirkel) took two prizes in the work in progress category: the Encore Sound, Chemistry Sound Mixing Award and the Morbido Festival Poster Graphic Design Award.
Mexican Emilio Portes' Belzebuth won the SP Cine Post Production Exhibition Award in the work in progress section, as well as the Fantaspoa Producoes Award for translation and subtitling into Portuguese, and the Laburo Digital Award.
Jimena Monteoliva's debut feature Clementina from Argentina took the Sofia Films Color Correction Prize and the Mayor Cine Sound Mixing Award.
Animation!, a new development and pitching platform at Ventana Sur coordinated with France's renowned Annecy festival, proved to be a lively and popular addition to programming.
Ecuadorian Daniel Esteban's Chakay, The Master Of The Two Worlds prevailed in the best TV series category. Special mentions went to Ioguis (Florencia Kohan, Sabrina Pace, Argentina), and Mandinga (Becho Lo Bianco, Argentina).
This year Argentina's film institute INCAA has launched funding for genre TV and film and presented its INCAA TV Award to The Unseen.
PRIMER CORTE
European Vision Prize: The Goodbyes (Los Adiosos, Natalia Beristain, Mexico)
Le Film Francais Prize for a free page of advertising:Body Electric (Corpo Electrico, Marcelo Caetano, Brazil)
LATIN AMERICAN VISION PRIZES
Habanero Award: Body Electric (Corpo Electrico)

Sofia Films Award: Body Electric (Corpo Electrico)
NMF, Color Front Prize: Soul Sister (Kiki Alvarez, Cuba)

HD Argentina Prize: The Goodbyes (Los Adiosos)
Special Mention: Soul Sister
La Mayor Cine Award: The Unseen (Nicolas Puenzo, Argentina)
Labodigital Prize: Las Malcogidas (Denise Aranbia, Bolivia)
INCAA TV Award: The Unseen
Animation!
Best TV Series: Chakay, The Master Of The Two Worlds (Daniel Esteban Jacome, Ecuador)
First Special Mention: Ioguis (Florencia Kohan, Sabrina Pace, Argentina)
Second Special Mention: Mandinga (Becho Lo Bianco, Argentina)
Best Feature Film Project: Len and the Whales' Song (Joan Manuel Millan, Manuel Victoria, Argentina-Colombia)

Special Mention: The Metamorph (Diego Ayala, Freddy Guerra, Chile)
BLOOD WINDOW
WORK IN PROGRESS
Encore Sound, Chemistry Sound Mixing Award: Black Circle (Adrian Garcia Bogliano, Mexico-US-Sweden- Finland-UK)
Morbido Festival Poster Graphic Design Award: Black Circle
SP Cine Post Production, Exhibition Award: Belzebuth (Emilio Portes, Mexico)
Sofia Films Color Correction Prize: Clementina (Jimena Monteoliva, Argentina)

La Mayor Cine Sound Mixing Award: Clementina
Fantaspoa Producoes Award (translation and subtitling Into Portuguese): Belzebuth
Laburo Digital Award: Belzebuth
BEYOND THE WINDOW
Teaser Award: The Horribles (Las Horribles, Cristóbal Echevensko, Chile)
Morbido Graphic Novel Adaptation Prize: La Fosa (Pablo Illanes, Chile)