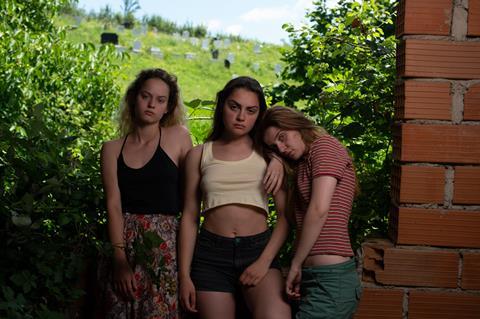 Luana Bajrami's France-Kosovo feature The Hill Where Lionesses Roar has won the best director and best debut feature prizes at the Uk's Raindance Film Festival today (November 5).
Bajrami's debut feature launched at Directors' Fortnight at Cannes and is handled by French sales agent Loco Films, with Le Pacte having already secured French rights.
The Hill Where Lionesses Roar centres on three young and free-spirited women who decide to escape their daily lives and form a gang.
Nine prizes were awarded to feature films at the Raindance ceremony, including best UK feature to Luke Cutforth for The Drowning Of Arthur Braxton. Cutworth is a successful YouTuber; UK sales firm 7&7 Producers' Sales Service boarded his debut feature in April this year.
Anita Rocha da Silveira's Medusa, another 2021 Directors' Fortnight debut, won best international feature; while Daniel Lombroso's debut, non-fiction title White Noise, won best documentary feature.
The winners were chosen by a 33-person jury, including actors Phoebe Dynevor, Fiona Shaw, and Tobias Menzies; executives Phil Hunt and Damian Spandley; and campaigner Peter Tatchell.
Raindance 2021 winners
Best international feature - Medusa (Braz) dir. Anita Rocha da Silveira
Best UK feature - The Drowning Of Arthur Braxton, dir. Luke Cutforth
Best documentary feature - White Noise (US) dir. Daniel Lombroso
Best director – Luana Bajrami, The Hill Where Lionesses Roar
Best debut feature – The Hill Where Lionesses Roar (Kos-Fr) dir. Luana Bajrami
Best performance – Lucia Moniz, Listen
Best music documentary – I'm Wanita (Australia) dir. Matthew Walker
Best screenplay – Renata Pinheiro, Sergio Oliveira, Leo Pyrata, King Car
Best cinematography – Sam Levy, Mayday