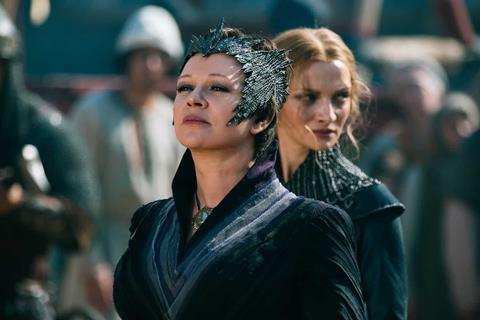 Russian distributors have closed multiple deals in the wake of the recent European Film Market (EFM), including a fantasy hit produced with Disney and several genre features.
Moscow-based All Media has been doing strong business with fantasy adventure The Last Warrior as well as sequel and recent box office success The Last Warrior: Root Of Evil.
The two films, produced by the Walt Disney Company CIS with independent studio Yellow, Black and White group, have been sold to Germany (Telepool), Italy (Minerva Pictures) and France (Mediawan Rights).
The Last Warrior: Root Of Evil has proved a box office hit in Russia despite the pandemic, taking $28.3m since its release on January 1.
During the EFM, Planeta Inform sold a package of three titles to Berlin-based distributor Capelight Pictures for German-speaking European countries. They include Hamlet Dulyan's $7m sci-fi We, now in post-production; Evgeniy Puzyrevsky social media horror Ex; and Alexey Kazakov's genre thriller Mara. A deal for Mara was also signed with BF Distribution in Latin America.
'Run' to Asia
Revolution Film sold Andrey Zagidullin's paranormal thriller Run to China (Virtual Cinema), Taiwan (AV-Jet International Media), France (L'Atelier d'Images), and South Korea (CCS Media Co). The film stars Polina Maksimova, who won best performance at Canneseries in October for her role in Russian comedy-drama 257 Reasons To Live.
In addition, Rock Films sold Alexey Uchitel's road trip feature Tsoi was sold to Estonia (MTU Otaka) while Odin Media sold Vaga Vardanyan's historical documentary drama Urartu: The Forgotten Kingdom to Italy (Rai).
More deals in the pipeline
The latest EFM deals follow recent sales secured by Russian distributor Central Partnership such as Chernobyl, which has been acquired by Capelight Pictures for North America and German-speaking territories, with the firm partnering with MPI Media Group on the US release. The big budget disaster feature, directed by Danila Kozlovsky, has also sold to Chinese streaming giant iQIYI.
Evgenia Markova, CEO of state promotional body Roskino, said that Russian companies had signed more than 30 deals during the EFM, which took place virtually from March 1-5, with a number of other agreements still under negotiation.
On the distribution side, Moscow-based Capella Film took Russian rights to Sundance documentary A Glitch In The Matrix, by US filmmaker Rodney Ascher, in a deal with Magnolia Pictures.
Capella is looking to release the film in Russian cinemas this summer and before taking it to home entertainment platforms at the end of 2021, to tie in with the theatrical roll-out of Lana Wachowski's The Matrix 4.