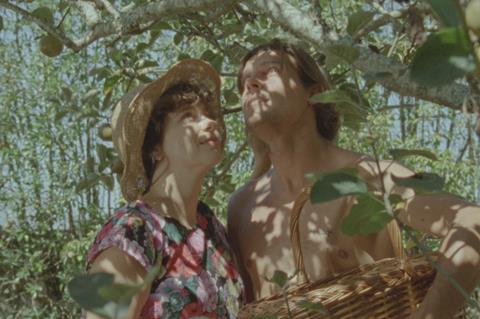 Leading German sales company The Match Factory has acquired world sales rights to the upcoming feature by Miguel Gomes, the acclaimed Portuguese director of the Arabian Nights trilogy.
Co-directed by French documentarian Maureen Fazendeiro, Tsugua Diaries was shot entirely in 16mm during the Covid-19 lockdown in Portugal. The filmmakers are keeping plot details under wraps but describe it both as "a lockdown journal" and "also a fiction".
It reunites The Match Factory with Gomes, having sold Arabian Nights, which debuted in Directors' Fortnight at Cannes in 2015, and Tabu, which played in Berlin Competition in 2012, winning the Fipresci prize and Alfred Bauer award.
The cast of Tsugua Diaries includes Crista Alfaiate and Carloto Cotta, both of whom starred in Arabian Nights, as well as João Nunes Monteiro. The feature, now in post-production, is produced by Portugal's O Som e a Fúria and Uma Pedra No Sapato.
The script is co-written by Gomes, Fazendeiro and Mariana Ricardo.
Fazendeiro, who is based in Lisbon, previously made documentary shots Mota Maeva and Black Sun. Her collaboration with Gomes began in 2014, when she worked as a casting director for the French shoot of Arabian Nights, and has since worked with the filmmaker as scriptwriter on his upcoming projects Savagery and The Grand Tour.
Gomes continues to work on Savagery, based on Euclides da Cunha's masterpiece Os Sertões, and is developing drama feature The Grand Tour, co-written with Ricardo, Fazendeiro and Telmo Churro.