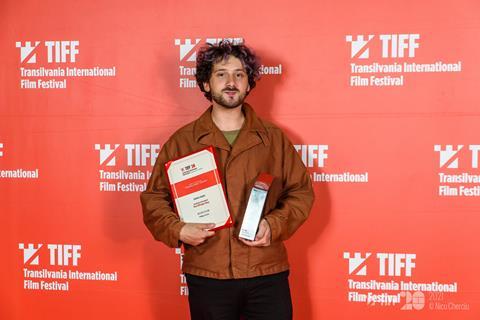 Russian director Philipp Yuryev was the big winner at this year's Transilvania International Film Festival (TIFF, 23 July – 1 August) in Romania's Cluj-Napoca, clinching the €10,000 ($11,890) Transilvania Trophy for his debut feature The Whaler Boy.
Distributed internationally by Laurent Danielou's Paris-based Loco Films, the Russian-Polish-Belgian co-production also won the Director's Award on its premiere at last year's Venice Days.
It is the second Russian film in TIFF's 20-year history to be presented with the top award: Ilya Krzhanovsky's 4 shared the trophy with Juan Pablo Rebella and Pablo Stoll's Whisky in 2005.
The international jury of Mexican screenwriter-author-producer Guillermo Arriaga, Israeli producer Katriel Schory, Romanian actress Maria Popistasu, US actor-director-producer Scott Coffey, and Cannes Deputy General Delegate Christian Jeune gave the best directing award to Romanian theatre director Eugen Jebeleanu's first foray into film directing, Poppy Field, which also received this year's audience award.
The special jury award went to the Indian director P.S. Vinothraj for his debut Pebbles, which had its world premiere in Rotterdam earlier this year, and the best performance award to the veteran Spanish actress Petra Martínez for her role in David Martín de los Santos's road movie That Was Life.
In addition, the jury gave a special mention to the Lithuanian film The Flood Won't Come by Marat Sargsyan.
The Covid-19 pandemic meant that the closing gala and awards ceremony had to move from its traditional venue in Cluj-Napoca's historical opera house to the city's main Unirii Square where the general public were able to buy tickets and join the accredited professionals and special guests such as veteran Hungarian director István Szábo for the ceremony.
This year's Fipresci prize went to Romanian director Bogdan George Apetri's Unidentified, while nature documentary Wild Romania by Dan Dinu and Cosmin Dumitrache was voted by the TIFF audience as the most popular Romanian film at the festival.
Ruxandra Ghitescu's Otto The Barbarian took home the Romanian Days award for best feature film, while Andrei Huțuleac's #dogpoopgirl was named best debut by the Romanian Days feature competition jury of FilmFestival Cottbus director Bernd Buder, film programmer Freddy Olsson, and New Europe Film Sales marketing manager Ewa Bojanowska.
There were some particularly poignant moments during the awards ceremony when the lifetime achievement award was presented to the actress Cezara Dafinescu and the special Transilvania 20 award to the film critic Dan Fainaru, while director Nae Caranfil gave a characteristically humorous and witty speech on accepting this year's excellence award.
In addition, the festival showed a series of clips from past editions of TIFF to pay homage to one of Romania's greatest actresses Luminița Gheorghiu who passed away this year on 4 July at the age of 71 after a long illness. She achieved international recognition through her roles in The Death of Mr Lazarescu and Golden Bear winner Child's Pose.
Industry Programme winners
The eighth edition of the Transilvania Pitch Stop (TPS) saw 10 projects from Romania, the Republic of Moldova, Ukraine, Turkey, Russia and Serbia presented in public and online to invited international professionals.
An international jury gave the Chainsaw Europe award of postproduction services worth €25,000 ($29,726) to Serbian-French actor Radivoje Bukvić's debut The Talentless.
Moldovan director Calin Laur's feature debut The Poor Dove - about the life of the folk singer Maria Dragan who died aged 39 - was awarded the €7,000 ($8,323) Transilvania Pitch Stop Development Award.
Russian filmmaker Vladimir Beck picked up the €1,500 ($1,783) Moldova National Film Centre award for his second feature Sasha, which had previously been pitched to foreign professionals during Roskino's key buyers event in June.
In addition, this CoCo award, which will enable the winner to pitch their project at the Connecting Cottbus co-production market at the beginning of November, went to Romania's director-cinematographer Ioana Turcan for her debut The Ways We Look At The Sun.
The Talentless and Sasha were the favourites among the handful of producers attending the pitching session last Thursday.
Described by Beck as "a social drama that pretends to be a love story", Sasha, which is being produced by Katerina Mikhaylova of Vega Film with Mars Media Entertainment, has already received funding from Russia's Ministry of Culture and has attracted interest from an Italian co-producer.
The Talentless marks Bukvic's first foray into screenwriting and directing after founding his production company Prikaz Film with producer Jovana Jovičić in 2019.
Bukvić, who will be known to international cinema audiences for his roles in such films as Taken, Largo Winch and A Good Day To Die Hard, explained during his pitch that the coming of age story in the wake of the violent breakup of Yugoslavia is inspired by actual events and people from his childhood and his experiences playing in a punk rock band during his schooldays.
The project already has distributor Megacom onboard for the ex-Yugoslavian territory as well as production partners in Hungary, Slovenia and Croatia, and will also be presented at the Kids Kino Industry pitching and co-production forum in Warsaw at the end of September.