The 65th Thessaloniki International Film Festival (November 6-14) offers busy industry programme including works in progress and Crossroads co-production strand.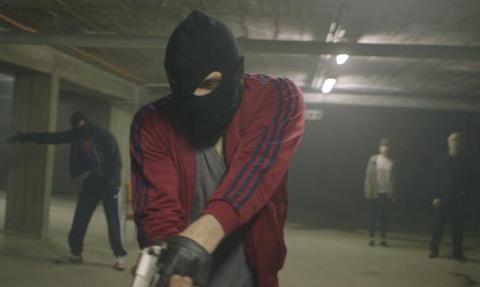 The 56th Thessaloniki International Film Festival kicks off today with the Berlin prizewinner Victoria by Sebastian Schipper.
The festival closes Nov 14 with the Cannes awarded My Golden Days (Trois souvenirs de ma jeunesse) by Arnaud Desplechin, who receives an homage, enjoys a full retrospective of his films and will deliver a masterclass.
Also receiving homages are veteran Romanian director Mircea Daneliuc and Greek master cinematographer Nikos Kavoukidis, accompanied by tributes to the 70 years of Greek animation and to the recent Austrian cinema.
The late Belgian director Chantal.Akerman is receiving a special homage with the presentation of her 2011 film Almayer's Folly (La folie Almayer).
The competition program includes 15 first and second films (the full list is below).
The five members of the international jury set to award the Golden, Silver and Bronze Alexanders are French producer Michèle Ray-Gavras as president, Romanian Director Corneliu Porumboiu, US film critic and Pordenone Film Festival artistic director Jay Weissberg, French producer Elise Jalladeau, and screenwriter Efthimis Filippou from Greece.
The 151-strong line-up assembled by artistic director Dimitri Eipides is spread across 15 sections. Principal among them, alongside the competition and tributes, are the emblematic Balkan Survey curated by Dimitri Kerkinos; the Greek Panorama as well as films nominated for the European Parliament Lux Awards; and the Youth Screen with films for children and young adults.

The Open Horizons and Special Screenings sidebars offer a select bunch of titles awarded at Cannes, Venice, Berlin and San Sebastian. Among them, Jafar Panahi's Taxi, Laszlo Nemes' Son of Saul, Aleksandr Sokurov's Francofonia, Jayro Bustamante's Ixcanul (Volcano), Michel Franco's Chronic, Santiago Mitre's Paulina (La patota), Radu Jude's Aferim! and Deniz Gamze Erguven's Mustang.
The Greek Panorama programme includes such eagerly awaited national premieres as the London and Sarajevo awarded Chevalier by Athina Rachel Tsangari; Mythopathy (Notias) which marks the return of Tassos Boulmetis 12 years after his critically acclaimed and record breaking box office hit Touch of Spice; the first ever Greek 3D production The Mirror by Christos Dimas; the period drama Cloudy Sunday by Manousos Manousakis; as well as Constantine Giannaris resurfacing with Spring Awakening.
The presentation of these Greek films comes at a time of anxiety in the local industry, as last month a levy on cinema admissions was abolished. Producers unions are fighting the move.
The Creative Europe Media backed business section of the event – Agora Industry, the Works in Progress and the Crossroads co-production strand focusing on films from the Balkans, Eastern Europe an the Mediterranean — is showcasing 226 titles.
The 14 projects presented at Crossroads are vying for eight awards including a Euros 10,000 CNC prize.
The jury is composed by German producer Titus Kreyenberg (Una Film), and his Belgian and Greek colleagues Joseph Rouschop (Tarantula) and Fenia Cossovitsa (Blonde S.A.).
Ten films are selected for the Works in Progress section, and that jury is comprised of
German sales agent Maren Kroymann (M-appeal), French festival programmer (Cannes-ACID) Fabienne Hanclot and Greek distributor Christos Behtsis.
The main award worth Euros 70,000 of servicesis offered by the local digital intermedia post-production powerhouse Graal.
Side events include a screening of Fritz Lang's 1927 classic Metropolis in its restored version accompanied by a live performance by the Thessaloniki State Symphony Orchestra. This event comes to Thessaloniki after its premiere at the 2010 Berlin Film Festival.
Thessaloniki 2015 International Competition
Petting Zoo, Micah Magee (Germany, Greece, US)
600 Miles, Gabriel Ripstein (Mexico)
Ivy,Tolga Karacelik (Turkey, Germany)
Glassland, Gerard Barrett (Ireland)
Box, Florin Serban (Romania, France, Germany)
Rams, Grimur Hakonarson (Iceland)
Land and Shade, Cesar Augusto Acevedo (Colombia, France, Netherlands, Chile, Brazil)
Road to La Paz, Francisco, Varone (Argentina, Netherlands, Germany, Qatar)
Eva Nova, Marko Skop (Slovak Republic)
From Afar, Lorenzo Vigas (Venezuela, Mexico)
Sparrows, Runar Runarsson (Iceland, Denmark, Croatia)
A Heavy Heart, Thomas Stuber (Germany)
White People, Lisa Aschan (Sweden, Denmark, Finland)
Silent, Yorgos Gikapeppas (Greece)
Interruption, Yorgos Zois, Greece, France, Croatia.