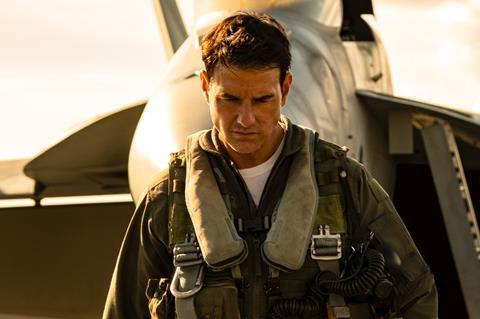 Top Gun: Maverick crossed $400m on Monday (June 13) to overtake Doctor Strange In The Multiverse Of Madness and rank as the highest North American release of 2022 to date.
Standing at $401.8m after 18 days in release the Tom Cruise tentpole from Paramount and Skydance passed the Doctor Strange sequel's $398.8m North American tally achieved after 39 days.
Maverick combines with $362m from international markets to reach $763.8m at the worldwide box office. While it has a shot at crossing $1bn worldwide it will certainly overtake the $791.6m final global tally of Mission: Impossible – Fallout by the end of its fourth weekend, if not before, to rank as Cruise's biggest career hit.
What appears out of reach even for Capt. Pete 'Maverick' Mitchell's sky-high confidence is the $804.8m North American gross set by Spider-Man: No Way Home. That remains the pandemic-era benchmark, as do its $1.1bn international and $1.9bn worldwide grosses.