Director discusses his sixth feature, which plays this week at TIFF.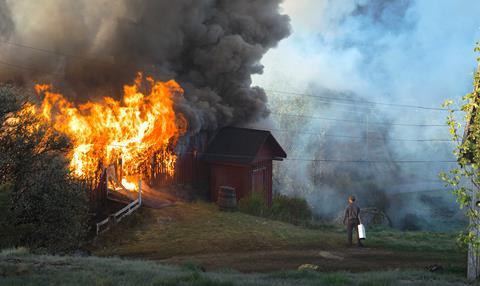 Norwegian-writer director Erik Skjoldbjærg confesses he definitely got into the mindset of his young protagonist while making Pyromaniac, which plays in Toronto International Film Festival's (Sept 8-18) Contemporary World Cinema strand.
Watching the fires on the film's set "was fantastic…I truly understood pyromania. Two hours later, I was looking at he ashes, thinking, 'We have to do this again.' It's addictive."
Skjoldbjærg's sixth feature is a slow-burn (pun intended) adaptation of critically acclaimed novel Before I Burn by Norwegian author Gaute Heivoll, based on the true story of a young man committing a series of arson attacks in a small Norwegian village in 1978. Although the fires are indeed addictively gorgeous, the film is more a portrait of the troubled young man and the devastating impact he has on his neighbours and his parents.
The opening scenes introduce Dag as the arsonist, so there is no whodunit angle, the mystery is more why he is doing it. "It's too reductive to give one single answer to it," Skjoldbjærg says. "There were a few things: he has a need to be seen, he has a streak of narcissism, he has this uneven bond with his father, and he feels excluded."
He cast up-and-comer Trond Nilssen in the pivotal lead role of Dag. "He's got such an expressive face. He is an amazing actor," the director says. "He can show a mixture of vulnerability and brutality."
"This is probably one of my more quiet films, but there is a creeping tension that does not rely on pace. It's very different to my TV show Occupied in that sense. It felt like that this was what the material needed."
The film shot in Finsland, the actual village where the fires took place. And the locals were supportive in unusual ways. "We couldn't afford to build all these buildings to burn them down, so we put advertisements in the newspaper, asking if people willing to offer properties to burn down. To my surprise we received an overwhelming reaction. And yet in the end we also knocked on a few doors to see if they would consider this idea."
The fire scenes were shot on film, with the rest shot digitally.
Although set in 1978, the film resonates today. "We've had our recent history of terrorism [in Norway] and people doing things it's hard to fathom. Each of us has a sense of knowing something about loneliness — on some level we're alone. The remedy is social interaction, but this interaction doesn't feel meaningful for some people."
The director had to leave Toronto quickly to get back to shooting the second series of the hit TV show Occupied. "I love the group of creators, and the machinery of the TV series," he says.
He says of the second season, "It's political like the first season, but you can't fit it into left wing or right wing axis. It's about how modern institutions of power have perfected the ability to manufacture the truth. I hope it's going to surprise even fans of the first season."
The director doesn't yet know what his next film will be, but he's ready to go back to working in English (his credits also include Prozac Nation, and he is repped by WME in the US). He said: "I'll be interested to venture back into the English-speaking world again."
Pyromaniac, sold by TrustNordisk, screens again in Toronto on Friday (Sept 16); and will also show at the BFI London Film Festival next month.