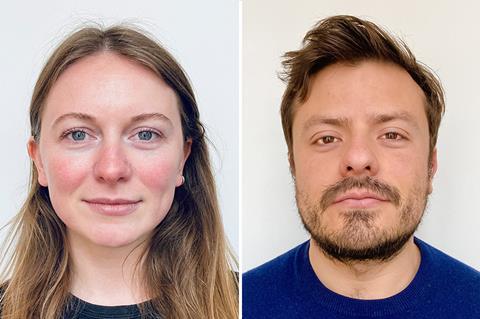 Paris-based international sales and production house Totem Films is heading into Cannes with two new senior hires and a trio of recently-boarded co-productions.
Margot Hervee will head up sales and acquisitions after spending six years at global platform Mubi. Pablo Carrizosa has come on to handle business affairs for the company's sales and production branches as well as the new point contact for Spain, Portugal and Latin America in sales and acquisitions. The duo joins Nuria Palenzuela Camon, head of festivals at Totem since the end of 2020.
Totem's production arm Totem Atelier is moving full speed ahead on several international co-productions including Anna Roller's Italy-set road movie Dead Girls Dancing that will premiere in Tribeca's international narrative competition. Totem will co-produce alongside German producer Kalekone and is handling international sales.
The company is also on board as co-producer and international seller for Slovenian filmmaker Kukla's first feature Fantasy following its festival workshop circuit in Les Arcs in 2021, Cinefondation in 2022 and WEMW in 2022. Totem Atelier is co-producing with Barbara Daljavec of December Production.
Also on Totem's co-production and sales slate is Vytautas Katkus' first feature The Visitor, part of Critics' Week's Next Step program in 2021 and Les Arcs in 2022 where it won the Arte Kino Prize. Totem Atelier co-produces with Marija Razgute's M-Films who are behind Marija Kavtaradze's Sundance prize-winning Slow.
Since its launch in 2019, Totem has carved out a niche in both the production and sales space and is currently run by Laure Parleani and Berenice Vincent. Totem Films acquires feature films to sell worldwide while Totem Atelier develops, finances and produces early-stage projects with international potential. The company launched with Levan Akin's And Then We Danced that ended up on the Oscars shortlist for Sweden after premiering in Cannes' Directors' Fortnight that year.
"Since the creation of Totem, we know how important it is to link the production to the launch. By strengthening the co-production and sales duo, we bring stability and know-how to the films we support, positioning the films for an international market well in advance," Parleani and Vincent told Screen.
Totem has been ramping up its support of female filmmakers. In 2022, 90% of the films in the company's line-up were directed by women.
On the sales end, Totem Films will bring two films premiering in Directors' Fortnight to Cannes; Geng Zihan's Song Sung Blue and Elene Naveriani's Blackbird Blackbird Blackberry.
Also on its Cannes market slate are Levan Akin's Passage which has already been sold to several key territories, and Ernst de Geer's Hypnosis, a Totem Atelier co-production, for which Totem will launch the first images and trailer at the market.