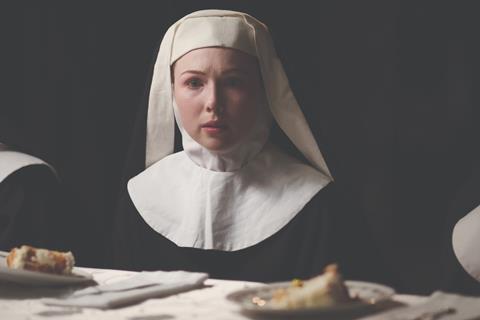 Tribeca Festival heads on Monday (May 3) announced the virtual hub Tribeca At Home, which will offer exclusive online premieres to viewers within the US who cannot attend the outdoor festival.

The new Tribeca Online Premieres section will offer new films, shorts, podcasts, 14 VR sections, and games and runs alongside the main festival from June 9-20.
The line-up comprises 35 films, of which 24 are features and 11 are shorts. It includes select features from the outdoor festival roster, as well as three previously announced shorts from the Juneteenth programme focusing on music, health, and civil unrest.
Narrative selections include Creation Stories, charting the drug-fuelled life of Britpop mogul Alan McGee; Agnes (pictured), in which a church dispatches a pair of priests to a convent where one of the nuns is possibly under the control of a demon; and Mars-set sci-fi thriller Settlers.
The feature narrative film line-up comprises: Agnes; Asking For It; Creation Stories; Dating And New York; Glob Lessons; Peace By Chocolate; The Perfect David (El Perfecto David); See For Me; and Settlers.
Among the feature documentary film line-up are: Being BeBe; ClayDream; Explant; The First Step; Mission: Joy; No Ordinary Life; The Phantom; Primera; Tigre Gente; and Turning Tables: Cooking, Serving, and Surviving in a Global Pandemic.
The Juneteenth line-up features are: Buddy Guy: The Blues Chase The Blues Away; Ferguson Rises; No Running; They're Trying To Kill Us, and Venus As a Boy.
"Tribeca first brought the festival experience into audience's homes in 2011 with the launch of our Tribeca Online Film Festival, and again as the first festival of 2020 to announce virtual programming," said Cara Cusumano, festival director and VP of programming. "Now as we celebrate a return to in-person events in 2021, we are excited to also continue to cultivate our nationwide festival family with this new evolution of virtual programming into a permanent festival section.