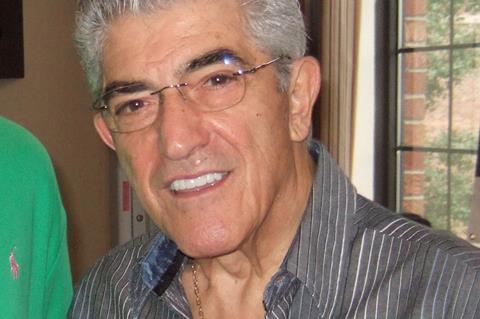 Tributes have been paid to actor Frank Vincent, who has died at the age of 78.
According to reports he had complications during open heart surgery in a New Jersey hospital.
Vincent played New York mob boss Phil Leotardo in The Sopranos and had memorable supporting roles in Martin Scorsese's Raging Bull, Casino and Goodfellas.
Fellow Sopranos actor Vincent Pastore said in an email to friends quoted by The Blast: "I just received a phone call that Frank Vincent has passed away… I'll let all know about the services… We lost a great character actor and great man… May he always stay in our memory."
In a statement issued on Thursday Martin Scorsese: Frank Vincent was someone I could count on. He was a natural who was at ease in front of the camera - on a set or on a stage. He made it look easy in all respects. He was genuine.
"We worked together on three pictures, each time with his old partner Joe Pesci, and I always marvelled at his genius for improvisation. He was a hard-working actor, he understood the world we were portraying so well that he really didn¹t appear to be acting at all. I will always marvel at his artistry, and consider myself lucky to have had the chance to work with him and to know him."
Actor Michael Rapaport said: "Damn the Great Frank Vincent has passed Consummate NYC actor from Goodfellas, Raging Bull & Sopranos. Good guy who had a great sense of humor."
Referencing Vincent's famous scene in Goodfellas, CNN anchor Jake Tapper said: "RIP Frank Vincent, who delivered one of the best movie lines of all time: Now go home and get your shinebox."
Director Joe Carnahan said: "NOOOOOOOOOOOOOOOOOOO! Fuck. Frank Vincent was fantastic. My heart goes out to his son, Tony. A fantastic stuntman & stand-up human being."
Maureen Van Zandt, who played Gabriella Dante on The Sopranos, said on Twitter. "We lost one of our family today. Frank Vincent. Wonderful actor and lovely man. Rest In Peace, Frankie."
Actor Theo Rossi added: "Terrific personality artist who created a VERY memorable body of work. Rest In Paradise Young Man. #FrankVincent"
Filmmaker John Gallagher posted a lengthy tribute on Facebook, signing off with: "I could write a book about my times with Frank, all beautiful joyous memories, but today in our grief thoughts race to his beloved wife Kathy and his grown children."