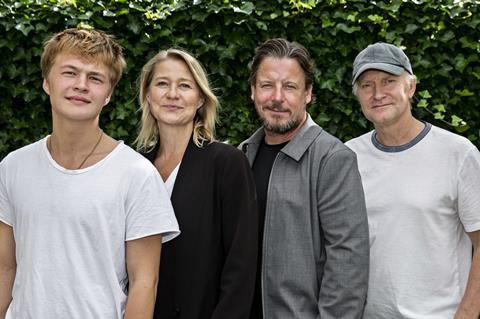 Danish star Trine Dyrholm will follow her award-winning role in Sundance award winner Queen Of Hearts by headlining the cast of Henrik Ruben Genz's Erna At War.
She will play a powerful woman who tries to save her mentally disabled son during the First World War. The film is set in 1918, on the borderland between Germany and Denmark, where her son is mistakenly enrolled for the Prussian Army. She disguises herself as a man to join his regiment and keep her son safe.
The cast will also include Ulrich Thomsen (The New Pope) as a country officer, Anders W. Bertelsen (The Killing) as a blacksmith who Erma falls in love with, and newcomer Sylvester Byder as the son, Kalle.
The film starts shooting tomorrow (Aug 29) in Denmark, Belgium and Estonia.
Bo Hr. Hansen and Henrik Ruben Genz wrote the script based on Erling Jepsen's novel of the same title.
The prroducers are Birgitte Hald and Nynne Selin Eidnes for Nimbus Film and the backers include the Danish Film Institute, TV2 Denmark, FilmFyn, TV4, Estonian Film Institute, Tartu Film Fund, Belgian Film Institute, Wallimage and Creative Europe Media.
Scanbox Entertainment has Scandinavian rights and plans to release in September 2020.
Genz's previous films include Terribly Happy, Excuse Me and Word Of God.
Dyrholm won Goteborg's Dragon Award for best performance for Queen Of Hearts (which won Sundance's audience award for world cinema as well as Goteborg's Dragon Award for Best Nordic Film). She won Berlin's Silver Bear for The Commune in 2016.