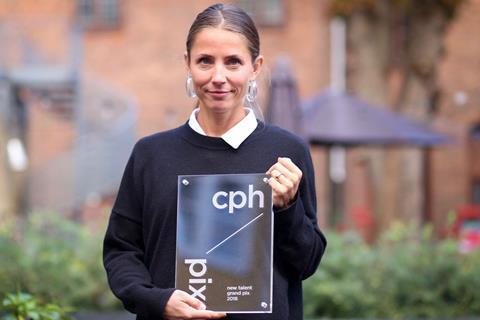 Update: Audience award and Politiken award also announced.
Original story: After its world premiere in Toronto and best actress prize in San Sebastian, Tuva Novotny's debut feature Blind Spot has now picked up the New Talent Grand PIX, with a cash prize worth $7,000 (€6,000), at CPH PIX in Copenhagen.
Novotny, a Swedish actress living in Denmark, directed her first feature in Norway. Shot in one real-time take, the story follows a troubled teenage girl and her parents responding to a crisis.
The jury was comprised of Tatiana Leite (Brazil), Joachim Lafosse (Belgium) and Jesper Ganslandt (Sweden).
The jury praised Novotny and Blind Spot, "For the boldness of exploring cinema aesthetically, creating a remarkable narrative, approaching a taboo theme with conscience, and going deeper into its complexity through its family ties. It is a rare event where a film's vision and execution goes completely hand in hand with the theme and story, and creates a powerful alliance where no one can escape this experience. The film caught us by unanimity, for it's form, unique director's vision, and incredible performance of the lead actress."
Denmark's own Rasmus Kloster Bro received a special mention for his debut feature Cutterhead.
The jury praised Kloster Bro "For creating a Hitchcockian pressure chamber that pumps the adrenaline and stokes the claustrophobia of its audience. A very physical experience leaving us wanting for more visions from this director."
The festival's new prize for Danish debut films, Politiken's TalentAward, went to Isabella Eklöf for Holiday.
The Audience Award went to another debut film, Boots Riley's Sorry To Bother You.
In the school and family programme BUSTER, the award for best children's film, with a $2,300 (€2,000) cash prize, went to Anders Walter's I Kill Giants. A jury of five teenagers selected the winner and said, "We have chosen this film because it has a great story behind it and great symbolism, that you understand when watching the movie. It has great animation of the monsters and themes on love, friendship and foes. It also has great actors."
The festival continues in Copenhagen until October 10.