EXCLUSIVE: Road trip comedy to co-star Laura Carmichael and Chloe Pirrie.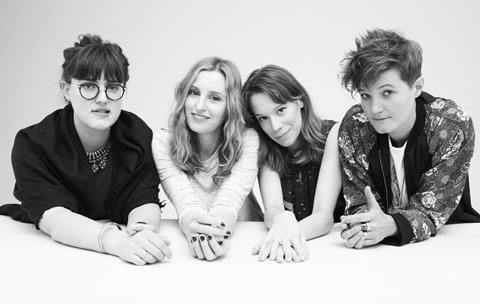 Paris-based Urban Distribution International (UDI) has picked up sales on Chanya Button's upcoming road-trip comedy Burn, Burn, Burn on the eve of its shoot.
Downton Abbey actress Laura Carmichael and Chloe Pirrie (Shell), a Screen Star of Tomorrow and Bafta Breakthrough Brit in 2013, are set to co-star as two friends who travel across Britain to scatter the ashes of their late best friend Dan.
Other cast members include Alison Steadman and Nigel Planer.
The women take turns driving with Dan in the glove compartment, in a tupperware container, decreasing in volume as the trip progresses.
"Burn Burn Burn is the perfect feelgood movie - the one you want to see after a hard day's work with your best friend, or again on TV and VOD with your mum," said UDI chief Frederic Corvez.
"It's funny, insolent, tender, smart, serious, hilarious, moving, sad, saucy, dazzling."
The film marks British director Button's debut feature after her Pinewood-backed short Alpha: Omega set against the backdrop of a century-long civil war sparked by the battle of the sexes.
Actress Charlie Covell has written the screenplay.
It is due to start shooting next week in various locations across Britain including London, Glastonbury, Cardiff, York and Loch Lomond.
Daniel-Konrad Cooper and Tim Phillips are producing the film alongside Button. They have secured the backing of Goldfinch Pictures and are currently closing a deal with a major regional funder.
UDI forging UK links
UDI is forging growing links with the UK film industry. Its current slate also includes Jake Gavin's Hec McAdam, starring Peter Mullan as a homeless Scottish man who travels to London to reconnect with his estranged family.
In other UDI news, the company has also just acquired Armenian French director Serge Avedkian's feature-length animation Last Round in Istanbul about a feud between two boxers, one Armenian, the other Turkish.
Avedkian won the Cannes Palme d'Or for his animated short Barking Island (Chienne d'histoire) in 2010, about a cruel plan to rid Constantinople of thousands of stray dogs in 1910.
Set in 1946, Last Round follows the long-running feud between Turkish boxer Suleyman and his Armenian rival, Armen.
Wanted on war crime charges, Suleyman stages his death in such a way that it is pinned to long-time rival Armen. The latter tracks him down in Istanbul for a final showdown.
Henri Magalon of Maybe Movies, who also worked on Long Way North and Ernest and Celestine, is producing with co-production support from Georges Schoucair of Lebanese Abbout Production.
Corvez says the film has a Casablanca atmosphere about it.
"People usually think of Waltz With Bashir when feature animation targets adults, but this reminds me more of Casablanca," he says.
"Because of the Nazi background, because of Africa, and because of the atmosphere, the fights, the cigarettes, the smoke and also because it shows a violent world run by men after World War Two which seriously tarnished their power and credibility," he explains.
The film is due for delivery in late 2015.
UDI's next outing is the Rome Film Festival and Business Street where it will be market screening Maxime Giroux' Felix and Meira, which won best Canadian film at Toronto, and Iranian Sepideh Farsi's green revolution romance Red Rose.