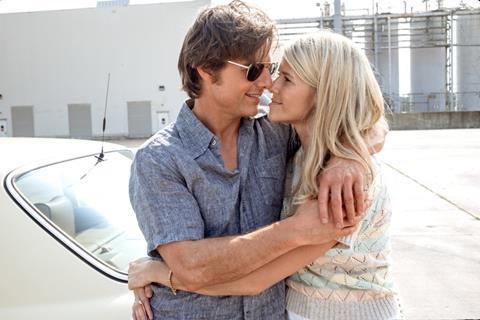 UK TOP FIVE
| Ranking | Film/Distributor | Weekend gross | Running total |
| --- | --- | --- | --- |
| 1 | American Made (Universal) | $1.25m (£962,000) | $3.9m (£3.01m) |
| 2 | Dunkirk (WB) | $1.19m (£923,000) | $69.5m (£53.73m) |
| 3 | The Hitman's Bodyguard (Lionsgate) | $930,000 (£718,329) | $7.3m (£5.64m) |
| 4 | The Emoji Movie (Sony) | $921,000 (£712,000) | $15.9m (£12.3m) |
| 5 | Logan Lucky (Studiocanal) | $817,000 (£631,004) | $2.74m (£2.12m) |
(Note - Dollar conversions are based on today's rates)
UNIVERSAL
Dropping only 10%, American Made retained the top spot at the UK box office for the second straight week.
Universal's Tom Cruise outing flew to $1.25m (£962,000) for $3.9m (£3.01m) after ten days in play, making it director Doug Liman's fifth best UK result, although The Bourne Identity's $10.2m (£7.85m) as his fourth biggest might be out of reach.
American Made's weekend total marks the lowest for a number one film since The House Bunny debuted top with $1.16m (£894,188) over the October 10-12, 2008 window, and the first number one below £1m since Prisoners over October 11-13, 2013.
Also for Universal, Despicable Me 3 boosted 30% in its tenth weekend with $665,000 (£514,000) for an excellent $59m (£45.55m) to date.
Girl's Trip has grossed a decent $10.7m (£8.29m) after six weeks in play.
WARNER BROS
Dunkirk fell only 7% as it delivered a $1.19m (£923,000) seventh weekend.
Warner Bros' war epic is now up to a terrific $69.5m (£53.73m), making it the 21st highest-grossing film of all time in the UK, with Fantastic Beasts' $70.8m (£54.7m) next in its sights.
Also for Warner Bros, Annabelle: Creation also enjoyed a healthy hold, dropping 14% with a $738,000 (£570,000) fourth weekend for $9.8m (£7.58m) to date, surpassing Annabelle's final UK haul of $9.7m (£7.51m).
LIONSGATE
Remaining in third, Lionsgate's The Hitman's Bodyguard dropped 18% with a $930,000 (£718,329) third weekend and has now shot to $7.3m (£5.64m) so far.
Also for Lionsgate, The Limehouse Golem uncovered $479,000 (£369,777) from its 276 sites on its UK debut, marking a site average of $1,734 (£1,340).
SONY
The Emoji Movie made the most of the final week of the summer school holidays, boosting 4% with a $921,000 (£712,000) fifth weekend.
Sony's animation is now up to $15.9m (£12.3m) which is coming up to five times its $3.5m (£2.7m) debut, a strong run given it had to battle with negative critical reviews.
Also for Sony, The Dark Tower fell 36% with $261,000 (£202,000) for $3.2m (£2.5m) after three weeks in play, while Spider-Man: Homecoming became the sixth release of 2017 to hit £30m as it added $215,000 (£166,000) for $38.9m (£30.08m).
Rough Night fell over 50% with a $148,000 (£114,000) second weekend for $841,000 (£650,000), as Baby Driver reached $16.7m (£12.9m) to date.
STUDIOCANAL
Logan Lucky fell only 10% with an $817,000 (£631,004) second weekend as it rounded off this week's top five.
Studiocanal's release of Steven Soderbergh's film-making return has now reached $2.74m (£2.12m) after ten days in play, and will soon overtake Haywire's $3m (£2.34m) UK result.
Also for Studiocanal, the 3D re-release of Terminator 2: Judgement Day has grossed $638,000 (£492,624) after topping the market on Tuesday (August 31), while The Big Sick has taken $2.25m (£1.74m) to date.
EONE
Detroit fell a slim 12% on its way to a $637,000 (£492,924) second weekend to chart eighth.
eOne's intense drama is now up to $2.21m (£1.71m) in the UK, already making it director Kathryn Bigelow's third best result, ahead of The Hurt Locker's $2m (£1.53m) tally.
FOX
Rising 10% in its sixth weekend, Fox's Captain Underpants added a non-final $247,000 (£190,837) for $9.5m (£7.37m) to date.
Also for Fox, Patti Cake$ disappointed with a $157,000 (£121,450) debut, including previews, from its 227 sites, while War For The Planet Of The Apes has grossed $26.6m (£20.58m) after eight weeks in play.
PICTUREHOUSE ENTERTAINMENT
God's Own Country got off to an auspicious start at the UK box office.
Picturehouse Entertainment's critically acclaimed romance grossed $217,000 (£167,824) from its 45 sites, including $41,000 (£31,732) in previews, marking a healthy site average of $4,831 (£3,729).
It's another British indie success story following Lady Macbeth, with God's Own Country doubling the site average of that film's debut as well.
Also for Picturehouse Entertainment, A Ghost Story is up to $570,000 (£439,839).
VERTIGO RELEASING
Stratton recorded director Simon West's lowest-ever UK bow with only $36,000 (£27,593) from its 144 sites through Vertigo Releasing.
That's some way down on his previous lowest, Wild Card's $197,000 (£152,034) from 229 sites back in 2015.
THUNDERBIRD RELEASING
From its seven sites through Thunderbird Releasing, Una posted a UK debut of $7,700 (£5,968), including $1,100 (£883) in previews.
UPCOMING RELEASES
This week sees saturation releases for Warner Bros' It and STX Entertainment's Wind River.
Curzon Artificial Eye's Insyriated, Vertigo Releasing's Goon: Last Of The Enforcers and Dogwoof's The Work are among the films receiving a limited release.