Studiocanal's Mindhorn delivers second strongest site average of the week; Universal's Get Out hits £10m.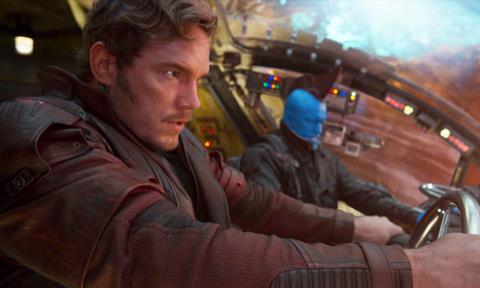 UK TOP FIVE
| Ranking | Film/Distributor | Weekend gross | Running total |
| --- | --- | --- | --- |
| 1 | Guardians Of The Galaxy Vol. 2 (Disney) | $7.9m (£6.1m) | $35.6m (£27.4m) |
| 2 | A Dog's Purpose (eOne) | $1.7m (£1.3m) | $1.7m (£1.3m) |
| 3 | Fast & Furious 8 (Universal) | $1.06m (£815,797) | $36.5m (£28.1m) |
| 4 | The Boss Baby (Fox) | $858,000 (£661,341) | $33.3m (£25.64m) |
| 5 | Beauty And The Beast (Disney) | $532,000 (£410,000) | $92.4m (£71.17m) |
DISNEY
Guardians Of The Galaxy Vol. 2 continued to reign over the UK box office for the second straight week.
Disney's latest Marvel offering fell a respectable 54% from its huge opening to post a $7.9m (£6.1m) second weekend for a strong $35.6m (£27.4m) after only ten days in play.
It will shortly overtake its predecessor's $37m (£28.5m) UK result, with Vol. 2 currently ranking as the sixth biggest Marvel outing to date.
After surpassing the first one, Guardians Of The Galaxy Vol. 2's next targets will be Captain America: Civil War and Iron Man 3, both of which grossed around $48m (£37m). A lot will depend on how it holds up against Alien: Covenant's arrival.
Also for Disney, Beauty And The Beast took a further $532,000 (£410,000) and has now waltzed to a staggering $92.4m (£71.17m).
It could still surpass Harry Potter And The Deathly Hallows: Part 2's final UK haul of $94.9m (£73.09m) as the seventh biggest film of all time by the end of its run.
UNIVERSAL
Fast & Furious 8 fell more than 50% with a $1.06m (£815,797) fourth weekend.
Universal's latest outing has now sped to $36.5m (£28.1m) and will still hope to cross the £30m mark, likely becoming the fourth release of 2017 to do so as Guardians will hit the milestone quicker.
Also for Universal, Get Out has passed the £10m mark in the UK with a $129,000 (£99,633) eighth weekend lifting it to $13m (£10.05m).
EONE
Thanks to its previews over the Bank Holiday weekend, A Dog's Purpose charted third on its UK debut.
eOne's family offering landed with a non-final $1.7m (£1.3m) from its 502 sites, including $866,000 (£667,169) in previews. Its Fri-Sun take of $820,000 (£631,717) would have seen it chart fourth.
The debut marks director Lasse Hallstrom's second highest overall UK bow, behind Dear John's $2.6m (£2m) opening from 402 sites, including $937,000 (£722,000) in previews.
Also for eOne, Sleepless opened with a soft non-final $478,000 (£368,121) from its 399 sites, marking a site average of $1,198 (£923). It could struggle to sustain in a busy market this weekend.
The Promise and Peppa Pig: My First Cinema Experience stand at $502,000 (£386,655) and $4.3m (£3.35m), respectively.
FOX
The Boss Baby fell to fourth due to A Dog's Purpose's previews as it fell 49% with a non-final $858,000 (£661,341) fifth weekend.
Fox's latest DreamWorks Animation outing has now grossed $33.3m (£25.64m) making it the fourth highest grossing original offering from the studio to date in the UK, with The Croods' $34m (£26.2m) soon to be overtaken.
Also for Fox, Secret Cinema's production of Moulin Rouge! has reached $4.7m (£3.61m) after 12 weeks of its run.
LIONSGATE
In its fourth week, Lionsgate's Their Finest dropped 49% with $422,000 (£325,331) for $4.2m (£3.25m) to date, and will end its run as director Lone Scherfig's second best UK result.
Also for Lionsgate, Unlocked posted an unspectacular $335,000 (£258,000) bow from its 275 sites, with four still to report.
STUDIOCANAL
Mindhorn charted eighth as it made a promising start to its UK run.
Studiocanal's comedy grossed $364,000 (£280,483) from its 95 sites, including previews, delivering the second strongest site average of the top 15 at $3,831 (£2,952).
Also for Studiocanal, The Sense Of An Ending stands at $1.4m (£1.07m).
ALTITUDE
Posting the best holdover of the top 15, Altitude's Lady Macbeth fell only 21% with a non-final $156,000 (£120,299) second weekend from its 113 sites for $592,000 (£456,029) to date.
Also for Altitude, I Am Not Your Negro took $14,000 (£10,596), falling a slim 16%, for $420,000 (£323,702) so far.
CURZON ARTIFICIAL EYE
After becoming the first foreign language non-Bollywood film to hit £1m since Julieta last week, Curzon Artificial Eye's The Handmaiden added $73,000 (£56,192) for an excellent $1.47m (£1.14m) to date.
ARROW FILMS
Released in Scotland ahead of its nationwide opening on May 19, Arrow Films' Whisky Galore grossed $63,000 (£49,061) from its 43 sites.
UPCOMING RELEASES
This week sees a saturation release for Fox's Alien: Covenant, while eOne's Miss Sloane receives a wide release.
Curzon Artificial Eye's Frantz, Vertigo Releasing's Jawbone and Peccadillo Pictures' The Levelling are among the films receiving a limited release.