Universal's Sing records biggest-ever previews for an original animation with $5.21m (£4.19m).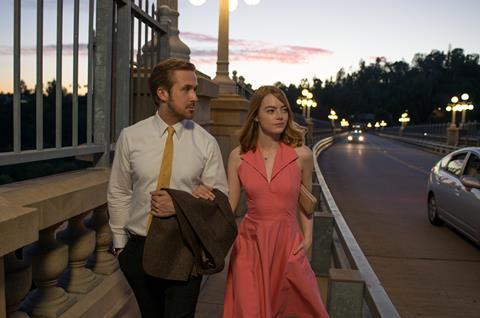 UK TOP FIVE
| Ranking | Film/Distributor | Weekend gross | Running total |
| --- | --- | --- | --- |
| 1 | La La Land (Lionsgate) | $5.44m (£4.37m) | $18.5m (£14.88m) |
| 2 | Split (Universal) | $3.16m (£2.54m) | $3.16m (£2.54m) |
| 3 | xXx: The Return Of Xander Cage (Paramount) | $2m (£1.6m) | $2m (£1.6m) |
| 4 | Lion (Entertainment) | $1.57m (£1.26m) | $1.57m (£1.26m) |
| 5 | Rogue One (Disney) | $1.09m (£876,230) | $80.1m (£64.34m) |
(Note - Dollar conversions are based on today's rates)
LIONSGATE
Having crossed £10m during its first week, La La Land continued to shine brightly at the UK box office.
Lionsgate's awards contender fell only 23% (excluding previews) as it danced to a $5.44m (£4.37m) second weekend for $18.5m (£14.88m) to date, retaining the number one spot for the second straight week as it expanded to 674 sites.
With $5m (£4m) taken during its first Monday-Thursday period, there is no reason to doubt that La La Land will continue to draw big crowds midweek, meaning that it could hit £20m this coming weekend.
Sing will likely prevent it from a third straight week as the UK's number one, but it should still enjoy a steady hold.
UNIVERSAL
Though it won't be officially reported until next week, Sing has had a record-breaking start to its UK run.
Universal's latest Illumination Entertainment feature scored the biggest-ever previews for an original animation with a show-stopping $5.21m (£4.19m) haul on Saturday and Sunday.
That tops the $4.52m (£3.63m) taken by previous record holder The Secret Life Of Pets, also from Illumination, which went on to enjoy a $11.9m (£9.58m) debut. An opening of more than £10m is all-but guaranteed for Sing.
Also for Universal, Split recorded director M. Night Shyamalan's fourth-best opening at the UK box office.
The psychological thriller landed at second with $3.16m (£2.54m) from its 450 sites, marking a healthy site average of $7,030 (£5,645), behind The Village ($3.67m/£2.94m from 433) but ahead of After Earth ($2.8m/£2.25m from 470).
As the sole major genre offering in the market at the moment and with decent reviews, it could enjoy a sustained run.
PARAMOUNT
xXx: The Return Of Xander Cage charted third on its UK bow.
Paramount's action threequel shot to a non-final $2m (£1.6m) from its 461 sites, including $252,000 (£202,000) from Thursday (January 19). It would have still charted third based solely on Fri-Sun takings.
That's some way short of xXx's $4.3m (£3.43m) debut from 435 sites back in 2002, but did at least top the sequel's $1.14m (£913,257) bow from 398 sites.
Also for Paramount, Monster Trucks stands at $4.21m (£3.38m) following a $125,000 (£100,000) fourth weekend.
ENTERTAINMENT
Lion arrived in fourth place on its UK box office debut.
Entertainment's drama travelled to a solid $1.57m (£1.26m) from its 369 sites, marking a $4,267 (£3,426) site average. Given the crowded market at the moment, it's a promising start and means it could make an impact midweek.
Also for Entertainment, The Bye Bye Man fell 72% with a $187,000 (£150,509) second weekend and has now scared up $1.13m (£905,761).
DISNEY
Rogue One: A Star Wars Story will break into the top ten highest-grossing films of all time at the UK box office this week.
Disney's spin-off fell 51% with a $1.09m (£876,230) sixth weekend for a terrific $80.1m (£64.34m) to date. Next in its sights is Jurassic World's $80.3m (£64.5m) and Philosopher's Stone's $82.3m (£66.1m).
Also for Disney, Moana sailed to a $608,000 (£488,559) eighth weekend for $22.6m (£18.18m) to date.
It faced competition from Sing's previews this weekend, but has still had a great run, taking more than eight times its opening weekend which is rare.
EONE
Jackie posted a UK bow similar to last week's awards opener Manchester By The Sea.
eOne's biopic took $826,000 (£662,900) from its 197 sites, behind Manchester's overall debut of $908,000 (£729,478) from 146 sites, but ahead of its Fri-Sun haul of $774,000 (£621,629).
Like with the other awards contenders in the market at the moment, Jackie could receive a boost from Oscar nominations this week.
Also for eOne, Ballerina and A Monster Calls stand at $5.02m (£4.03m) and $3.43m (£2.76m), respectively.
STUDIOCANAL
Manchester By The Sea expanded to 306 sites to post a minimal drop with a $645,000 (£518,123) second weekend.
Studiocanal's awards contender is now up to a promising $2.05m (£1.65m) after ten days in play, and could receive a further midweek boost if Casey Affleck gets his expected Oscar nomination this week.
Also for Studiocanal, Silence has grossed $2.7m (£2.17m) after three weeks in play.
FOX
Falling 64% in its third weekend, Fox's Assassin's Creed hunted down a non-final $425,000 (£341,450) for $9.5m (£7.66m) to date, meaning it will miss out on hitting £10m.
Also for Fox, Trolls and Why Him? stand at $29.7m (£23.81m) and $6.06m (£4.87m), respectively.
SONY
Dropping 66% in its fifth weekend, Sony's Passengers travelled to an extra $328,000 (£263,137) for a decent $15.5m (£12.43m) to date.
Also for Sony, Underworld: Blood Wars posted a steep drop of almost 80% with an $88,000 (£70,780) second weekend for $755,000 (£606,514), meaning it will end its run as the lowest-grossing Underworld outing of the series.
WARNER BROS
Now in its 10th week, Warner Bros' Fantastic Beasts And Where To Find Them added $233,000 (£187,000) for $67.7m (£54.33m) to date.
Also for Warner Bros, Live By Night posted a hefty drop of almost 80% with a $176,000 (£141,000) second weekend for $1.49m (£1.19m).
UPCOMING RELEASES
This week sees saturation releases for Universal's Sing, Sony's T2 Trainspotting and Lionsgate's Hacksaw Ridge (opens January 26).
eOne's Denial receives a wide release, while Dogwoof's Cameraperson and Curzon Artificial Eye's Christine are among the films receiving a limited release.