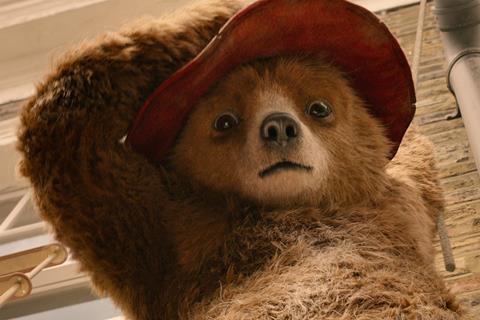 (Note - Dollar conversions are based on today's rates)
UK TOP FIVE
| Ranking | Film/Distributor | Weekend gross | Running total |
| --- | --- | --- | --- |
| 1 | Paddington 2 (Studiocanal) | $10.8m (£8.26m) | $10.8m (£8.26m) |
| 2 | Murder On The Orient Express (Fox) | $5.7m (£4.4m) | $16.9m (£13m) |
| 3 | Thor: Ragnarok (Disney) | $4m (£3.07m) | $33.8m (£25.87m) |
| 4 | A Bad Moms Christmas (Entertainment) | $1.66m (£1.27m) | $5.5m (£4.18m) |
| 5 | Jigsaw (Lionsgate) | $542,000 (£414,932) | $5.9m (£4.54m) |
STUDIOCANAL
Paddington 2 looks set to follow up on the original's huge success after a massive UK box office debut.
Studiocanal's critically acclaimed sequel derailed Murder On The Orient Express with a confirmed $10.8m (£8.26m) bow from its 606 sites, marking a robust site average of $17,842 (£13,629).
Paddington 2 also set a new Studiocanal record as the distributor's biggest-ever overall UK opening, easily topping Legend's $6.8m (£5.19m), and biggest Fri-Sun tally, ahead of Paddington's $6.7m (£5.13m).
Paddington went on an excellent run across the festive period in 2014 to take $49.5m (£37.9m) in the UK, with Paddington 2 looking likely to go one further by surpassing £40m, at least.
FOX
Murder On The Orient Express may have lost the top spot, but can be pleased with an impressive drop of only 12% as it charted second.
Fox's Agatha Christie adaptation travelled to a non-final $5.7m (£4.4m) second weekend for $16.9m (£13m) after ten days in play, soon to become Sir Kenneth Branagh's second-biggest directorial outing in the UK, ahead of Thor.
As expected, it enjoyed a strong first Mon-Thurs period with $4.7m (£3.6m) banked and Murder On The Orient Express should continue to prosper midweek.
Also for Fox, Kingsman: The Golden Circle's UK run is drawing to a close, taking $113,000 (£86,497) for a decent $32.4m (£24.78m) to date.
DISNEY
Thor: Ragnarok fell to third as it dropped a respectable 30% with a $4m (£3.07m) third weekend.
Disney's latest Marvel outing has now taken $33.8m (£25.87m) to date in the UK which makes it the eighth highest-grossing Marvel movie to date, with Guardians Of The Galaxy's $37.3m (£28.5m) result next in its sights.
Justice League will provide stiff superhero competition from this Friday (November 17), but Thor: Ragnarok should easily become the eighth 2017 release to cross £30m.
ENTERTAINMENT
A Bad Moms Christmas followed up its strong opening by not dropping at all, based on Fri-Sun takings, in its second weekend.
Entertainment's comedy sequel took $1.66m (£1.27m) for $5.5m (£4.18m), successfully avoiding the fast-burn nature of most sequels, and will hope to continue its run to hit £10m, topping Bad Moms' $11.2m (£8.6m) result.
LIONSGATE
Jigsaw rounded off this week's top five with a $542,000 (£414,932) third weekend, marking a drop of 45%.
Lionsgate's horror is now up to $5.9m (£4.54m) and should at least edge past Saw VI's $7.1m (£5.4m) result, although it won't come close to the best result of the series to date, Saw 3D: The Final Chapter's $11.2m (£8.6m).
Also for Lionsgate, Only The Brave landed with an underwhelming $350,000 (£268,026) from its 331 sites, while My Little Pony fell 58% with $213,000 (£162,713) for $4.5m (£3.43m) to date.
EONE
Falling 43% in its fourth weekend, eOne's The Death Of Stalin chalked up a further $388,000 (£296,693) for $5.6m (£4.28m) to date.
ALTITUDE
The Florida Project enjoyed a promising start to its UK run as it charted eighth.
Altitude's critically acclaimed drama grossed a non-final $315,000 (£241,127) from its 100 sites, including $100,000 (£76,733) in previews, surpassing the entire run of Tangerine, although that received a much more limited release.
Also for Altitude, Loving Vincent has amassed $1m (£767,143) to date.
SONY
Falling 40%, Sony's Blade Runner 2049 added $274,000 (£210,000) for $24.3m (£18.6m) after six weeks in play.
Also for Sony, Call Me By Your Name has reached $1m (£767,000) following a $119,000 (£91,000) third weekend, while Professor Marston And The Wonder Women grossed only $12,000 (£9,000) from its 76 sites on its UK bow.
WARNER BROS
In its fifth week, Warner Bros' The Lego Ninjago Movie fell 59% with $251,000 (£192,000) and has now assembled $12.2m (£9.31m), less than a third of The Lego Movie's $44.8m (£34.3m) result.
Also for Warner Bros, Geostorm has whipped up $5.5m (£4.22m) following a $128,000 (£98,000) fourth weekend.
CURZON ARTIFICIAL EYE
Falling 40% (excluding previews), Curzon Artificial Eye's The Killing Of A Sacred Deer recorded a $153,000 (£117,010) second weekend for $717,000 (£548,577) to date.
UNIVERSAL
In its fourth weekend, Universal's Happy Death Day sliced to an extra $83,000 (£63,779) for $3.7m (£2.83m) to date.
Also for Universal, Despicable Me 3 stands at $62.3m (£47.64m).
STX INTERNATIONAL
London Film Festival opener Breathe stands at $1.98m (£1.52m) following a $65,000 (£49,918) third weekend through STX International.
UPCOMING RELEASES
This week sees a saturation release for Warner Bros' Justice League, while Lionsgate's Film Stars Don't Die In Liverpool and Universal's Ingrid Goes West both receive a wide release.
Curzon Artificial Eye's Good Time and Munro Films' Trophy are among the films receiving a limited release.