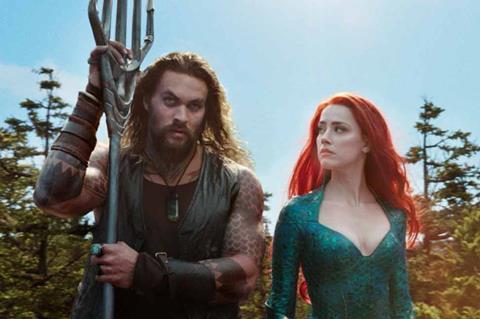 This week's UK box office sees three high-profile studio releases enter the market.
For the last three years, this weekend in December has seen the release of a blockbuster Star Wars title, two of which, The Force Awakens in 2015 and The Last Jedi in 2017, now sit as respectively the first and fifth highest-grossing titles of all time in the UK.
This year, however, sees a break from the franchise and an opportunity for other releases to make the most of the early festive market.
Disney's Mary Poppins sequel is expected to be the title to make the biggest splash in the absence of Star Wars, but that film is taking up a slot one week later when it comes out on December 21. Early positive reviews this week have only added to industry feeling that the film could end up as one of the biggest of all time in the UK.
In the meantime, Warner Bros' superhero feature Aquaman will be looking to capitalise on the void created by the lack of a Star Wars. The film forms part of the DC universe of comic book releases, which have tended to see mixed returns in the UK, and stars Jason Momoa as the titular aquatic hero.
In that canon, Zack Snyder's Superman picture Man Of Steel opened to £11.2m in the UK in 2013, ending on £30m. Batman V Superman: Dawn Of Justice, also directed by Snyder, fared a little better with £14.6m and £36.6m in 2016. In 2016, David Ayer's Suicide Squad was again in that ballpark with £11.3m and £33.6m.
In 2017, the franchise had mixed fortunes with Patty Jenkins' Wonder Woman grossing a respectful £6.3m and £22.2m, while ensemble film Justice League (again directed by Snyder) opened with £7.4m but laboured to a disappointing £17.4m.
Warner will be hoping Aquaman can deliver bigger numbers. To date, the film has already posted a huge opening in China with $94.2m.
Aquaman (which opened Wednesday, Dec 12) will face challenges from two films that have had significantly longer openings, with both Sony Pictures release Spider-Man: Into The Spider-Verse and Universal Pictures' Mortal Engines previewing heavily prior to their official releases.
Sony's Spider-Man: Into The Spider-Verse, the animated spin-off of the superhero franchise, first entered cinemas last Saturday (Dec 8), placing an impressive sixth in that weekend's chart just from its grosses on Dec 8 and 9 with £750,000. The film has its full opening from Dec 12 and this weekend's official figure will be boosted by those extensive previews.
In a similar strategy, Universal's Mortal Engines, the big-budget tale based on Philip Reeve's dystopian novel of the same name, from director Christian Rivers and producer Peter Jackson, took £578,861 from previews on Saturday and Sunday last weekend and continued to play this week. That film has its official opening today (Dec 14).
Also opening this weekend is 20th Century Fox's Once Upon A Deadpool, the family-friendly re-edit of the blockbuster adult superhero film Deadpool 2, which grossed £32.7m in the UK earlier this year.
In the US, Deadpool 2 carried an R rating, and Once Upon A Deadpool has the lower rating of PG-13 due to the editing out of violence and swearing, meaning that a wider family audience can see the film in cinemas. The joke appears to have been lost on the British Board of Film Classification, however, who have stuck to the film's original rating of 15, meaning that it will be on offer to the same audience here.
Dogwoof is releasing climbing documentary Free Solo this weekend. The film follows one man's attempt to become the first person to climb the intimidating 3,000ft high El Capitan Wall in the US without any ropes or safety gear. The doc has already taken an impressive $10.5m in the US (released by National Geographic Entertainment) and early reports are that it will open strongly. The distributor is already reporting grosses of £240,459 from preview screenings, largely from a 100-site nationwide preview and Q&A on Tuesday (Dec 11). It will play in 58 sites from today.
Curzon has The House That Jack Built, from controversial director Lars von Trier. The film, which premiered in Cannes Out of Competition this year, stars Matt Dillon as a vicious serial killer. Curzon is releasing the original Cannes version in the UK, which has been granted an 18 certificate by the BBFC. In the US, distributor IFC Films has been made to cut the film by censor body the MPAA, though the distributor has also put out a "directors' cut" that is the un-censored version.
Elsewhere, Modern Films is releasing Cbeebies Christmas Show: Thumbelina into more than 300 sites this weekend in an event-style release. The screening is the latest in the series of annual Christmas specials produced by BBC Children's In House Productions, and will have a one-day showing on Saturday (Dec 15).
Park Circus is handling its annual re-release of Christmas classic It's A Wonderful Life this weekend, while Bulldog Film Distribution has Craig William Macneill's crime thriller Lizzie out in the UK, starring Kristen Stewart and Chloe Sevigny, following the film's premiere in Sundance last year.