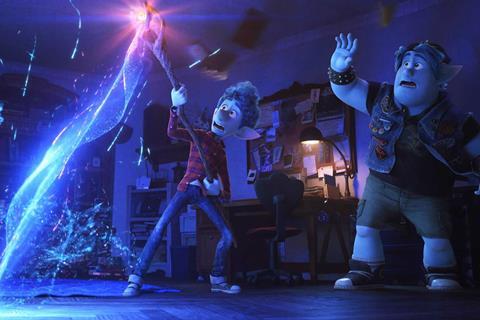 | | | | | |
| --- | --- | --- | --- | --- |
| Rank | Film (Distributor) | Three-day gross (Mar 13-15) | Total gross to date | Week |
| 1 | Onward (Disney) | £1.3m | £5.3m | 2 |
| 2 | The Invisible Man (Universal) | £827,368 | £6.6m | 3 |
| 3 | Military Wives (Lionsgate) | £404,696 | £2.4m | 2 |
| 4 | Sonic The Hedgehog (Paramount) | £400,000 | £19m | 4 |
| 5 | The Hunt (Universal) | £399,559 | £542,311 | 1 |
GBP to USD conversion rate: 1.31
Concerns over the spread of coronavirus saw the UK box office take a hit over the weekend, with leading titles down at least 50% on the previous weekend.
While the films in the top five largely remain the same, the total box office taken this week for those titles is £3.31m – down 49% on last week's total of £6.47m.
This was despite cinemas remaining open and no ban on public gatherings in the UK, where there have been close to 1,400 reported cases of COVID-19 and 35 deaths to date.
UK cinemas remain open as of March 16, however, the Scottish government has today issued guidance that gatherings of 500 people or more should not take place in the country from today while mass gatherings could be banned in the UK from this weekend as the outbreak intensifies.
Disney
Disney topped the UK box office charts for a second week with Pixar animation Onward. Its gross of £1.3m over the three-day weekend was down 50.8% on the previous weekend's takings of £2.6m and it now stands at a total of £5.3m.
Philippa Lowthorpe's Miss World drama Misbehaviour opened in eighth place, taking £330,000 over the weekend and up to £350,000 including pre-release activity. This is in spite of a strong cast that includes Keira Knightly, Gugu Mbatha-Raw and Jessie Buckley. Lowthorpe previously directed literary adaptation Swallows And Amazons, which opened to £677,188 in August 2016 and eventually took £3.1m.
Harrison Ford adventure The Call Of The Wild took £65,000 on its fourth session for a total of £2.77m, while animation Spies In Disguise made a further £57,000 to take it to £7.64m after 12 weekends.
Universal
On its third weekend, The Invisible Man posted a 55% drop to £827,368. It has £6.55m to date and is closing on the top 10 grosses by Blumhouse Productions titles in the UK, with 2012's Sinister in 10th with £6.6m.
But new Blumhouse title The Hunt opened with just under £400,000 across the weekend, rising to £542,311 when including previews. Starring Betty Gilpin and Hilary Swank in a satire on the political divide between the American left and right, the film's release had been postponed from September following a spate of mass shootings in the US.
Family adventure Dolittle dipped to £146,418, taking it to £15.88m after six weekends, while period comedy drama Emma took £94,146, taking it to £7.41m after five weekends.
Lionsgate
Feelgood choir drama Military Wives took £404,696 on its second weekend, earning a place in the top five but down 54.5% on its opening weekend. It is now up to £2.38m.
Paramount
Sonic The Hedgehog dropped 58% on its fifth weekend with £400,000 taking it to an impressive £19m to date.
Comedy Like a Boss added £7,000 to take it to £1m after four weekends while animation Paw Patrol: Ready, Race, Rescue! is now at £1.9m after adding £9,000 on its eighth outing.
Sony
Sci-fi action feature Bloodshot, starring Vin Diesel, opened with £369,000 from 442 locations for a cume of £445 including the Wednesday opening.
Blumhouse's Fantasy Island took £137,000 on its second weekend, taking it to £724,000, while Bad Boys For Like added £59,000 for an impressive £16.1m total.
Sequel Jumanji: The Next Level now stands at £36.36m while Little Women is up to £12.9m.
STX
Action-comedy My Spy, starring Dave Bautista and Chloe Coleman, opened with £345,575 from 448 cinemas over the three-day weekend for an average of £778.
Curzon/Studiocanal
After breaking the record for the highest-grossing non-English language film of all time in the UK, Bong Joon Ho's Oscar-winning Parasite took a further £232,212 on its fifth weekend, taking it to £11.97m.
A re-release of The Elephant Man, marking its 40th anniversary and restored in 4K, took £5,108 across the weekend and £7,983 including previews.
eOne
Todd Haynes' Dark Waters dipped to £223,046, bringing it to £2.41m to date.
On its tenth session, 1917 made £108,947 and is up to £43.7m; while Queen And Slim topped up £11,508 on its seventh outing and has grossed £1.39m to date.
Warner Bros
DC Extended Universe title Birds Of Prey added £42,000 on its sixth session and has £8.81m in total.
Curzon
Céline Sciamma's Portrait Of A Lady On Fire added £41,727 from 78 sites on its third weekend. It has £543,137 in total and is Sciamma's highest-grossing film in the UK – more than double the £232,511 of 2015's Girlhood.
Altitude/Element
Irish drama Calm With Horses, marking Nick Rowland's directorial debut, grossed £31,527 for the weekend from 123 sites – a screen average of £256. Starring Cosmo Jarvis and Barry Keoghan, the film has taken £49,000 to date, including previews and the Irish release, handled by Element Distribution.
Kinostar
Polish crime drama Bad Boy opened with £17,541 from 159 theatres.
Entertainment Film Distributors
The Gentlemen added £16,920 from 69 sites and has now taken £12.05m after 11 sessions; while Brahms: The Boy II added £10,727 from 78 sites for £1.04m after four weekends.
Mubi
Brazil-France co-production Bacurau, which won the jury prize after playing in Competition at Cannes last year, took £10,767 over the weekend after opening in 21 site – a screen average of £513. Adding festival takings and previews, the film has now taking £43,906 to date.
Picturehouse Entertainment
True History Of The Kelly Gang added a further £10,785 over the three-day weekend. It has now taken £252,604 to date.