Paramount's sequel tops chart, but non-final $5.86m (£4.6m) debut is well down on previous instalments.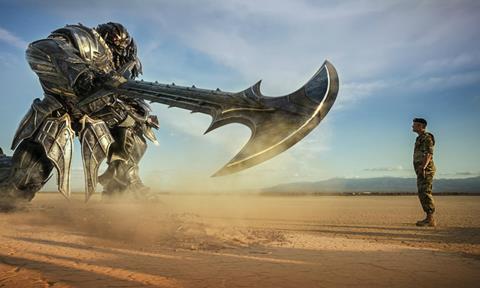 (Note - Dollar conversions are based on today's rates)
UK TOP FIVE
| Ranking | Film/Distributor | Weekend gross | Running total |
| --- | --- | --- | --- |
| 1 | Transformers: The Last Knight (Paramount) | $5.86m (£4.6m) | $5.86m (£4.6m) |
| 2 | Wonder Woman (WB) | $2m (£1.56m) | $24m (£18.83m) |
| 3 | The Mummy (Universal) | $970,000 (£760,704) | $9.63m (£7.55m) |
| 4 | Pirates Of The Caribbean: Salazar's Revenge (Disney) | $867,000 (£680,000) | $23.5m (£18.4m) |
| 5 | Hampstead (eOne) | $576,000 (£452,203) | $576,000 (£452,203) |
PARAMOUNT
As expected, Transformers: The Last Knight has denied Wonder Woman a fourth straight week at the top of the UK box office.
Paramount's sequel reigned over the chart with a non-final $5.86m (£4.6m) debut from its 577 sites, including $943,000 (£740,000) in previews. Its Fri-Sun tally of $4.92m (£3.86m) would have also seen it land at number one.
However, The Last Knight recorded the lowest overall opening for the series to date by some distance, behind Transformers: Revenge Of The Fallen's $10.6m (£8.35m) from 516 sites.
Its Fri-Sun takings are actually ahead of Transformers: Age Of Extinction's $4.73m (£3.71m) though, as that film's overall debut of $15m (£11.75m) was boosted by six days of previews.
Age of Extinction went on to make $24.9m (£19.5m) in the UK, currently the lowest-grossing outing of the series to date, but The Last Knight will need to hold well to have a chance of even matching that.
Also for Paramount, Baywatch added $574,000 (£450,000) for $11.3m (£8.85m) after four weeks in play.
WARNER BROS
Wonder Woman may have dropped off the top spot, but it still managed an excellent hold, dropping a slim 16% with a $2m (£1.56m) fourth weekend.
Warner Bros' latest DC outing has now lassoed $24m (£18.83m), surpassing Batman Begins and has already outgrossed early Marvel films like Iron Man and Thor, with Captain America: The Winter Soldier's $24.6m (£19.3m) soon to be overtaken.
UNIVERSAL
The Mummy fell 35% on its way to a $970,000 (£760,704) third weekend as it dropped to third.
Universal's reboot is now up to $9.63m (£7.55m) and will struggle to hit £10m, an inauspicious UK start to Universal's attempted Dark Universe series.
Also for Universal, The Book Of Henry struggled with a $91,000 (£71,698) UK debut from its 121 sites, marking a weak $756 (£593) site average. With a critical mauling, expect a big drop this coming weekend.
DISNEY
Pirates Of The Caribbean: Salazar's Revenge fell only 5% as it sailed to a $867,000 (£680,000) fifth weekend.
Disney's latest adventure for Captain Jack Sparrow has now amassed $23.5m (£18.4m), and will hope for similarly impressive holds to hit the £20m mark in the UK.
Also for Disney, Guardians Of The Galaxy Vol. 2 now stands at a terrific $52m (£40.8m).
EONE
Rounding off this week's top five, eOne's Hampstead recorded a non-final UK bow of $576,000 (£452,203) from its 485 sites, and will hope for solid midweek returns due to its older-skewing audiences.
LIONSGATE
In its second weekend, Lionsgate's Churchill fell a respectable 33% on its way to $328,000 (£257,662) for $1.26m (£986,085) to date.
FOX
In its fifth weekend, Fox's Diary Of A Wimpy Kid: The Long Haul boosted 24% with a non-final $322,000 (£252,882) for $6.91m (£5.42m) to date. It should overtake Rodrick Rules' $7.27m (£5.7m) result by the end of its run.
Also for Fox, My Cousin Rachel added $211,000 (£165,811) for $2.56m (£2.01m), while Gifted fell 40% (excluding previews) on its way to a $193,000 (£151,134) second weekend for $872,000 (£684,581).
The Boss Baby and Alien: Covenant stand at $36.2m (£28.39m) and $16.4m (£12.88m), respectively.
STUDIOCANAL
Marking its 50th anniversary, Studiocanal's re-release of The Graduate posted a UK debut of $37,000 (£28,946) from its 28 sites.
DOGWOOF
In its second weekend, Dogwoof's Whitney: Can I Be Me took $29,000 (£22,484) from its 38 sites for $190,000 (£148,203) to date.
CURZON ARTIFICIAL EYE
Seasons In Quincy: Four Portraits Of John Berger grossed $9,400 (£7,379) from its 12 sites through Curzon Artificial Eye.
UPCOMING RELEASES
This week sees saturation releases for Sony's Baby Driver (opens June 28), Universal's Despicable Me 3, Warner Bros' The House and Lionsgate's All Eyez On Me.
National Amusements' In This Corner Of The World receives a wide release, while Icon's Kedi, Dogwoof's Risk, Trafalgar Releasing's Alone In Berlin and Thunderbird Releasing's A Man Called Ove are among the films receiving a limited release.