Paramount's Jack Reacher: Never Go Back shoots to non-final $3.28m (£2.68m) bow from 518 sites.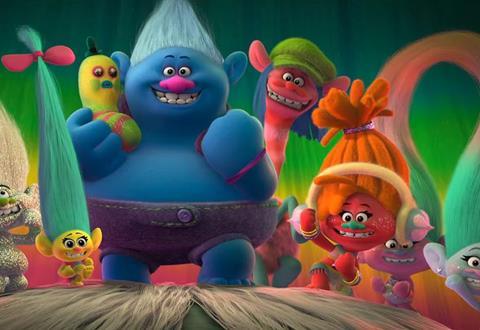 UK TOP FIVE
| Ranking | Film/Distributor | Weekend gross | Running total |
| --- | --- | --- | --- |
| 1 | Trolls (Fox) | $6.65m (£5.43m) | $6.65m (£5.43m) |
| 2 | Jack Reacher: Never Go Back (Paramount) | $3.28m (£2.68m) | $3.28m (£2.68m) |
| 3 | The Girl On The Train (eOne) | $2.44m (£2m) | $21.7m (£17.72m) |
| 4 | Inferno (Sony) | $1.59m (£1.3m) | $7.1m (£5.8m) |
| 5 | Bridget Jones's Baby (Universal) | $1.36m (£1.11m) | $54.4m (£44.52m) |
(Note - Dollar conversions are based on today's rates)
FOX
Following its strong previews last weekend, Trolls has derailed The Girl On The Train at the top of the UK box office.
Fox's latest DreamWorks Animation outing sung to an overall non-final $6.65m (£5.43m) from its 612 sites, including $2.97m (£2.43m) in previews. Its Fri-Sun tally of $3.68m (£3.01m) would have also seen it land the top spot.
In terms of original DreamWorks Animation outings in the UK, Trolls ranks as the fourth biggest overall opening of all time, narrowly ahead of Madagascar.
Last year, Home opened with $7.37m (£6.02m), including previews, and sustained well to reach $31.1m (£25.4m). Trolls will benefit heavily from this week's school holidays and will hope for a similar run.
Also for Fox, Miss Peregrine's Home For Peculiar Children fell 44% with a $901,000 (£736,177) fourth weekend as it crossed the £10m mark to stand at a decent $12.3m (£10.03m).
Keeping Up With The Joneses struggled to make an impact on its UK bow, grossing $331,000 (£270,913) from its 296 sites at a somewhat soft average of $1,120 (£915).
PARAMOUNT
Jack Reacher: Never Go Back had to settle for second on its UK bow.
Paramount's action sequel shot to a solid non-final $3.28m (£2.68m) from its 518 sites, including $328,000 (£268,000) in previews. Its Fri-Sun tally of $2.95m (£2.41m) would have also seen it chart second.
Overall, the opening is down on Jack Reacher's $4.37m (£3.58m) from 448 sites, although that film did enjoy a five-day opening with $1.52m (£1.24m) taken over Weds-Thurs, meaning Never Go Back's Fri-Sun is ahead of the first film's $2.85m (£2.33m).
Jack Reacher went on to take $11.5m (£9.4m) in the UK and should the sequel hold well, it could challenge that.
EONE
The Girl On The Train might have been denied a hat-trick at the top of the chart, but it still enjoyed a strong $2.44m (£2m) third weekend.
eOne's adaptation has now journeyed to $21.7m (£17.72m) and should hit the £20m mark by the end of this coming weekend if it holds as well. Gone Girl's $27.4m (£22.4m) result is well within its reach.
Also for eOne, I, Daniel Blake recorded the best-ever opening of Ken Loach's career to date.
The critically acclaimed drama scored an impressive $542,000 (£443,197) debut from its 94 sites, including $48,000 (£39,194) in previews, marking a site average of $5,769 (£4,715) and surpassing The Wind That Shakes The Barley's $478,000 (£390,720) bow from 105 sites as Loach's biggest.
Whether it can follow that film's lengthy run to $4.78m (£3.91m) - currently Loach's best-ever UK result - remains to be seen, but the film has the word-of-mouth to sustain strongly and eOne will next week expand the film's screen count to more than 150.
The BFG has now amassed $37m (£30.23m).
SONY
Inferno fell more than 50% on its way to a $1.59m (£1.3m) second weekend as it dropped to fourth.
Sony's latest Dan Brown adaptation has now uncovered $7.1m (£5.8m) after ten days in play, and will likely end its run as the lowest grossing outing of the series to date, currently Angels & Demons' $23m (£18.79m).
UNIVERSAL
Bridget Jones's Baby fell a respectable 41% on its way to a $1.36m (£1.11m) sixth weekend.
Universal's threequel is now up to a superb $54.4m (£44.52m) in the UK and is now the second highest-grossing release of 2016. The Jungle Book's crown as 2016's biggest release with $56.5m (£46.2m) won't last much longer.
Also for Universal, Ouija: Origin Of Evil scared up a lacklustre $953,000 (£779,416) from its 408 sites. That's down on Ouija's $1.68m (£1.37m) from 416 sites, but the prequel will hope to prosper in the lead-up to Halloween.
American Honey suffered a steep drop as it travelled to $82,000 (£67,438) for $383,000 (£313,149) after two weeks in play.
WARNER BROS
Storks dropped 48% (excluding previews) as it delivered a $818,000 (£668,760) second weekend.
Warner Bros' animation has now taken $4.19m (£3.43m) in the UK and has suffered from the success of Trolls. The school holidays should deliver healthy returns for the second feature from Warner Animation Group.
LIONSGATE
In its fourth weekend, Lionsgate's Deepwater Horizon drilled up a further $180,000 (£147,348) for $6.45m (£5.27m) to date.
DISNEY
In its 13th weekend, Disney's Finding Dory swum to an extra $98,000 (£79,904) for an excellent $51.8m (£42.37m) to date. It could receive a little boost from this week's school holidays.
Also for Disney, Queen Of Katwe could only manage a $90,000 (£73,753) UK debut from its 135 sites for an average of $668 (£546).
ALTITUDE
My Scientology Movie continued its great run in the UK with a non-final $67,000 (£54,686) third weekend from its 32 sites.
Altitude's documentary is now up to an impressive $1.13m (£923,961) and plays in 59 sites across this week. It will likely hit the £1m mark soon.
UPCOMING RELEASES
This week sees a saturation release for Disney's latest Marvel offering Doctor Strange, which opens tomorrow (October 25).
Dogwoof's Lo And Behold: Reveries Of The Connected World, Curzon Artificial Eye's After Love and Studiocanal's Train To Busan are among the films receiving a limited release.