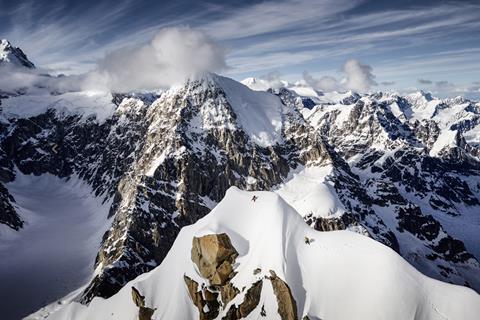 Heading into Cannes, Visit Films has reported a strong response to its line-up and has licensed mountain climbing documentary The Sanctity Of Space to Dogwoof in the UK, and Madman Entertainment in Australia and New Zealand.
Currently in post-production, the film is directed by Renan Ozturk, who co-directed the critically acclaimed Sherpa and was the cinematographer and one of the main subjects of Sundance award winner Meru, and Freddie Wilkinson, a renowned Alpinist and adventure writer.
The Sanctity Of Space is in the vein of Oscar winner Free Solo and Dawn Wall, and follows climbing friends Ozturk, Wilkinson, and Zack Smith as they attempt to retrace the steps of legendary mountaineer and photography icon Brad Washburn. Ozturk weaves together their obsessive journey with Washburn's own remarkable story and examines the need to explore.
Visit has also licensed Diane, the acclaimed drama starring Mary Kay Place, for Spain (La Aventura), Brazil (Supo Mungam), New Zealand (Sky TV), Middle East (Teleprog), and Canada (MK2 | Mile End). IFC distributed the film in the US in March.
State Like Sleep starring Katherine Waterston and Michael Shannon has gone to the UK (The Movie Partnership), Japan (New Select), South Korea (Joy N Cinema), Taiwan (Moviecloud), MidEast (Front Row), Greece (Neo Films), New Zealand (Sky TV), and airlines (Encore Inflight). The Orchard (now 1091) released it in the US in January.
Deals for Merce Cunningham documentary If The Dancer Dances have closed in Canada (Kinosmith) and Taiwan (Moviecloud). Monument Releasing will distribute in the US this month.
Locarno selection and San Sebastian award winner A Family Submerged starring Mercedes Morán has gone to Germany and Austria (Cine Global), Australia (SBS), Spain (Surtsey), Mexico (Interior XIII), New Zealand (Sky TV), the US and Canada (Monument Releasing), and airlines (Spafax).
Toronto International Film Festival 2018 selection Jirga, Australia's official entry for the Oscars last season, has gone to Front Row in the Middle East.
Visit president Ryan Kampe and director of sales Lydia Rodman negotiated all the aforementioned deals.