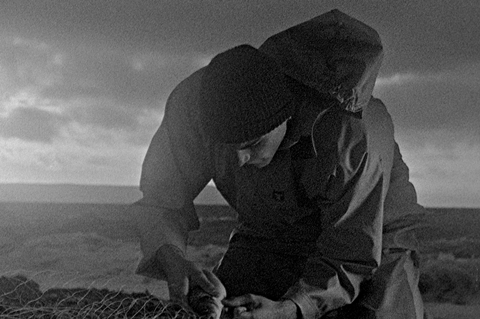 Bait, the debut feature from UK filmmaker Mark Jenkin, was awarded the Grand Prix and the audience award at the closing ceremony of New Horizons International Film Festival on Saturday (August 3).
This year a total of 12 features were competing for the Grand Prix at the 19th edition of the event, held in Wrocław, Poland from July 25 to August 4.
Produced by Early Day Films, Bait was shot on 16mm black and white film and follows a small fishing community in Cornwall which comes under threat as wealthy Londoners want to turn the town into a seaside resort. Early Day is also handling sales.
After its world premiere in Berlin - the only UK film selected for the Forum programme - Bait has since played at Istanbul Film Festival, Indie Lisboa and had its UK premiere at Edinburgh.
This year's Grand Prix jury was made up of Swedish director and screenwriter Isabella Eklöf (last year's Grand Prix winner for Holiday), Johann Lurf (whose Reconnaissance and ★ (Starfilm) both screened at New Horizons), Rasha Salti (Lebanese curator, programmer, and screenwriter), Agnieszka Smoczyńska (whose latest film, Fugue, premiered during Critics' Week at Cannes), and Kim Yutani (program director for the Sundance Festival).
The jury praised Bait for its "raw visual and sonic language, playful and almost campy style".
Also at Saturday's awards ceremony, the Zuzanna Jagoda Kolska prize was given to Polish director Natalia Koniarz, the youngest filmmaker to enter the festival, for her feature The Dam (produced by the Krzysztof Kieślowski Faculty of Radio and Television).
New Horizons Studio+ awards
The awards for the New Horizons Studio+ training programme, which ran from July 27-30, have also been handed out. The programme saw ten director-producer teams present a film project each to international experts at the festival.
The New Horizons Association / London Film Academy main award went to How is Katia? by director Christina Tynkevych and producer Olha Matat.
Horia, directed by Ana-Maria Comănescu and produced by Carla Fotea, received Ale kino+ Television Channel Award.
The jury also gave a special mention to The Quiet Migration (Malene Choi Jensen and Maria Møller Kjeldgaard).
The programme ran under the supervision of David Pope (London Film Academy), sales agent Hédi Zardi (Luxbox), Michael Arnon (Wolf Consultants), Aranka Matits ( Featurette) and Mathias Noschis (Alphapanda).
Next year's New Horizons will take place from July 23 - August 2.