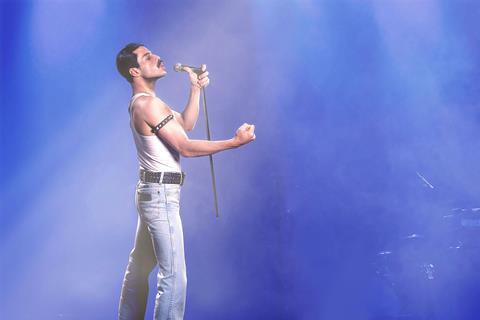 Bohemian Rhapsody was the UK's highest-selling home entertainment title of 2019, as SVoD services powered the sector to 9.5% growth year on year, according to figures released today (January 3) by the British Association for Screen Entertainment (BASE).
Bohemian Rhapsody sold 1.7m copies across physical and digital formats for 20th Century Fox, which was taken over by Disney last year. Disney's own Avengers: Endgame was second in the 2019 chart with 1.3m sales. Both sold more than half a million digital copies.
The biggest title of 2018 was another Fox musical, The Greatest Showman, with 2.69m copies sold.
The top 10 titles, according to data from the Official Charts Company, is below.
Top 10 physical and digital titles
Bohemian Rhapsody (1.7m)
Avengers – Endgame (1.3m)
Toy Story 4 (789,310)
Mary Poppins Returns (717,909)
A Star Is Born (701,984)
The Lion King (659,561)
Venom (653,497)
Captain Marvel (638,187)
Aladdin (637,092)
Fantastic Beasts - Crimes Of Grindelwald (591,862)
Once again Game Of Thrones topped the TV chart, with the Complete 8th Season (via Warner Bros. Home Entertainment) selling 192,000 in the final four weeks of the year.
Market value
Based on data from the Official Charts Company and Futuresource Consulting, the total value of the video market grew 9.5% to £2.6bn, up from £2.4bn in 2018.
Driving this growth were SVoD services such as Netflix and Amazon Prime Video, which generated 65.9% of the total market value.
Combined physical and digital ownership, alongside renting, made up the remaining 34% and was worth £891m in 2019. Physical sales (DVD, Blu-ray and 4K UHD) accounted for 54% of this transactional spend, a fall of around 5% compared to 2018.
However, EST (electronic sell-through, or digital purchases) now has a market value of £263m, up 3.5% in 2019 compared to 2018, while digital rental is worth around £124m.
The report adds the second half of 2019 saw a "significantly reduced slate", following a poor first quarter at UK cinemas.
Market share
Disney (not including Fox titles) led the way with total disc value market share (18.6%) in 2019 thanks to a strong slate of family blockbusters, including Avengers, Toy Story 4, Mary Poppins Returns and The Lion King.
Meanwhile Universal Pictures Home Entertainment was the largest distributor based on volume, thanks to not only the Universal studio slate, but also success with Paramount Pictures, DreamWorks and, as of August, Entertainment One titles. Among its biggest hits were Rocketman, Yesterday and Mamma Mia! Here We Go Again.