Beyond The Mountains And Hills, One Week And A Day take home top prizes after 15 days of programming.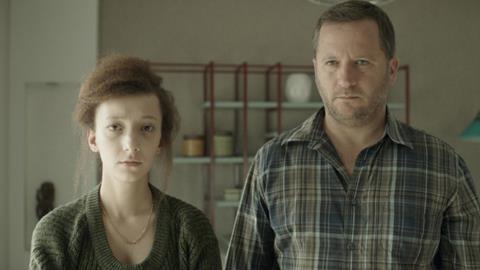 The 20th edition of UK International Jewish Film Festival selected its award winners after fifteen days of programming. The festival showcased over 80 world, European and UK premieres of features and shorts from November 5-20.
The Israel-Germany-Belgium co-production Beyond The Mountains And Hills [pictured], directed by Eran Kolirin, took home the award for best feature film. It's star Mili Eshet collected the prize at the ceremony.
Head of jury Jason Solomons said, "It was felt that Kolirin's film was a bold step up from his popular debut The Band's Visit, and we admired his willingness to examine the complexities of modern Israeli life with unflinching views that will challenge some audiences. We were struck and provoked, to varying degrees, by the idea of a family representing a nation in mid-life crisis and representing its fears.
"The film maker is to be congratulated on giving these fears and often-unspoken doubts a voice in an attempt to deal, through various styles and emotional responses, with the contradictions of a society through where personal is political every day. We felt the film encapsulated good and bad, and that it was a fine example of modern, experimental world cinema, both engaging head-on with its topic and holding a mirror up to it."
Who's Gonna Love Me Now? won the audience choice award, which was selected by an online poll of the public.
The documentary, directed by Alexander Bodin Saphir, Barak Heymann and Tomer Heymann, tells the story of an ex-Israeli army paratrooper who discovers he is HIV positive and decides to reconcile with his family.
The prize for best debut was awarded to the Israeli comedy-drama One Week And A Day, directed by Asaph Polonsky.
Film entries were judged by a jury including Jason Solomons, Alexis Zegerman, Ralitza Petrova, Kim Bodnia, David Evans, Dave Calhoun, Nick Powell, Peter Bradshaw, Sean McAllister and Tracy-Ann Oberman.