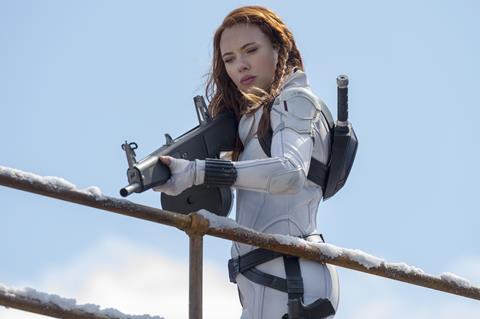 After a delay of more than a year, Disney has finally released Marvel superhero adventure Black Widow in the UK and Ireland, and will deliver the territory's widest theatrical release since cinemas began reopening in May.
The comic book adaptation, starring Scarlett Johansson and directed by Cate Shortland, opened in 622 venues in the UK on Wednesday (July 7) – two days ahead of the US – and generated £1.2m of its first day of release. The takings were impacted by England's win over Denmark in the semi-finals of Euro 2020, which drew an audience of more than 26 million viewers on Wednesday evening.
The superhero film added a further £1.04m on Thursday, for a cume of £2.25m from previews.
Disney will expand its roll-out to 649 screens from today (July 9), marking the biggest release since UK cinemas began reopening on May 17, when pandemic restrictions were relaxed.
Originally scheduled for release in May 2020, the pandemic saw the release of Black Widow delayed – first to November 2020 and then to May 2021, before shifting to July.
But its opening weekend in the territory may be impacted by three factors. The first is that Black Widow will be made available to stream on the Disney+ platform for £19.99 from today. The second is that not all cinemas have reopened and those that have cannot return to full capacity until July 19.
The third is England's match against Italy in the Euro 2020 final on Sunday evening, which is sure to be a huge draw for audiences as it represents the first time in 55 years that the country has reached a major men's football final.
However, appetite is expected to be high for the superhero film as it has been two years since the release of Spider-Man: Far From Home, the previous film in the Marvel Cinematic Universe (MCU), which took £8.3m on its opening weekend in July 2019 and went on to gross £37m.
The MCU's biggest box office hit to date remains Avengers: Endgame, which broke opening weekend records in the UK when it took £43.4m from 679 cinemas from April 26-28, 2019. It went on to gross £88.7m in the territory, making it the biggest release of the year.
Counter releases
With a Marvel feature opening wide, other distributors are planning smaller releases for a range of titles, intended to provide an alternative to a superhero tentpole.
Sony is releasing documentary The Truffle Hunters by US filmmakers Michael Dweck and Gregory Kershaw, which follows a group of older men as they scour the woods of northern Italy for the prized Alba truffle. The film, which debuted at Sundance 2020, will open in 37 locations.
Blue Finch Film Releasing will open Zaida Bergroth's Finnish drama Tove in 22 locations. Further screens are booked for the biopic of Moomins creator Tove Jansson for its second and third weeks of release.
New Wave will open Pietro Marcello's Italian romantic drama Martin Eden in 19 locations. The feature was first seen at Venice 2019, where it won the Coppa Volpi for actor Luca Marinelli, before going on to win the Platform award at Toronto later that year.
Studio Soho Distribution will release Jeremy Hersh's US drama The Surrogate in 16 sites, including London's Picturehouse Central and HOME Manchester, but is anticipating an increase in the number of screens.
Miracle Comms will open UK documentary Mosley: It's Complicated on nine screens and has two Q&A events planned with director Michael Shevloff next week. The film chronicles the life of Max Mosley, who reigned as head of Formula 1's governing body, the FIA, from 1993 to 2005.
Kaleidoscope Entertainment will give Dave Minogue's Irish comedy-drama Poster Boys a release in 13 Ireland sites this weekend.
Further openers include Chinese period drama 1921, by Jianxin Huang and Dasheng Zheng, which will be released by Trinity Film; Signature Entertainment's action sci-fi Occupation Rainfall, directed by Luke Sparke; and Anti-Worlds Releasing's French drama Jumbo, directed by Zoe Wittock and starring Noémie Merlant, which screened at Sundance and the Berlinale in 2020.
Key holdovers include Universal's box office leader Fast & Furious 9, Sony's family feature Peter Rabbit 2: The Runaway, Warner Bros' musical In The Heights and Paramount's A Quiet Place Part II.