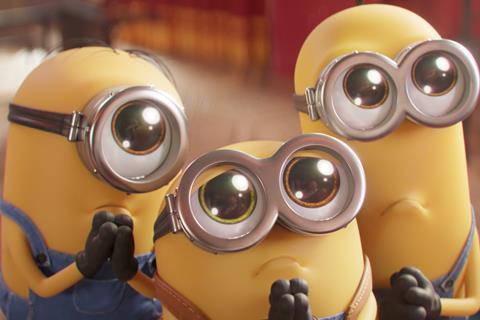 With the school summer holidays already underway for some and in sight for most children, Universal is going big with the release of Minions: The Rise Of Gru.
The Minions sequel will play in 637 sites, making it Universal's widest ever animation release in the UK-Ireland. The first Minions film debuted at the top of the UK-Ireland box office back in 2015, taking £11.6m from 573 sites, which broke the then record for the biggest ever three-day opening for an animation.
The Illumination title is the fifth film in the Despicable Me franchise. Despicable Me 3 took £11.14m from 612 sites in 2017, while Despicable Me 2 took £9.9m in 2013. The first film opened to £3.7m in 2010.
This instalment offers insight into supervillain Gru's origin story and unfolds in 1976. Kyle Balda, Brad Ableson, Jonathan Del Val direct the Annecy premiere, with a voice cast of Steve Carell, Taraji P. Henson, Michelle Yeoh, RZA, Jean-Claude Van Damme, Lucy Lawless, Dolph Lundgren, Danny Trejo, Russell Brand, Julie Andrews, Alan Arkin.
Picturehouse is debuting Cannes premiere Nitram in 59 locations. The Justin Kurzel-directed drama examines the story behind Martin Bryant, who in 1996 unleashed the deadliest shooting in Australian history on a small Tasmanian town, Port Arthur, killing 35 people. Caleb Landry Jones plays Bryant, for which he won the best actor award at Cannes 2021.
Ronnie Sandahl's Tigers, based on a true story about a promising young Swedish footballer and the sacrifices he must make to bring his dreams to fruition, is being released by Studio Soho Distribution in 34 cinemas.
After a one-night only 120-site preview event on Thursday (June 30), Altitude will be playing Sundance premiere The Princess at 18 sites. The documentary about Princess Diana is directed by Ed Perkins and comprises of archive footage. It's produced by Simon Chinn and Jonathan Chinn of Lightbox, who are behind Man On Wire and Searching For Sugar Man.
Dartmouth Films has Eric Ravilious: Drawn To War at 22 sites. The documentary explores the British war artist, who was killed in a plane crash in 1942.
Takayuki Hirao's animation Pompo: The Cinephile, adapted from a manga series and released by Anime Ltd, is playing in 13 locations this weekend. It is set in the fictional film landscape of Nyallywood, where a pig-tailed B-movie producer pivots to take on a serious-minded project.
Verve Pictures has Wayfinder at three sites. Larry Achiampong's first feature follows a young girl on an intrepid adventure across the UK, set during the pandemic.
Also out this weekend is Kapil Verma's Hindi-language Indian action thriller Rashtra Kavach OM, released by Zee Studios International.
Re-releases
Studiocanal is playing Lionel Jeffries' 1970 classic The Railway Children at 324 sites on Sunday, ahead of the upcoming sequel The Railway Children Return, which Studiocanal is releasing in UK cinemas on July 15.
Curzon is paying homage to German filmmaker and Cannes Palme d'Or winner Wim Wenders with a retrospective of his work. Wings Of Desire is playing at 27 sites, Alice In The Cities at seven, The American Friend at three, Buena Vista Social Club at eight, Kings Of The Road at two, Pina at four and Salt Of The Earth at one.
Key holdovers from last week are Elvis (Warner Bros); Jurassic World Dominion (Universal); Lightyear (Disney); Doctor Strange In The Multiverse Of Madness (Disney); and The Black Phone Universal).