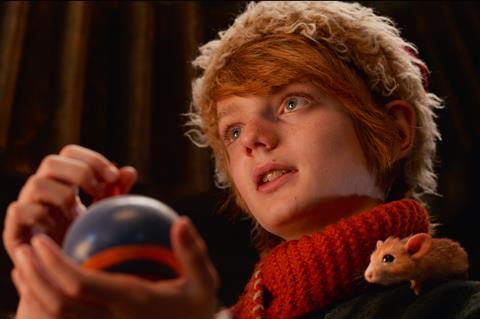 UK pay-TV broadcaster Sky is to launch 30 new Sky Original films this year and will increase this to one a week from 2022 in a bid to become "the best home cinema service in the world".
It represents a major push into film for the UK pay-TV operator, taking on streaming giants Netflix and Amazon as well as Disney, whose channels were removed from Sky last October following the launch of Disney+.
The plan to launch one original film per week from next year echoes a similar commitment made by Netflix earlier this month.
More than 125 Sky Originals are being lined-up for 2021, comprising TV drama, documentaries, comedy and entertainment as well as films – representing 50% more original content than in 2020. This is in line with Sky's ambition to more than double its investment in original content to £1bn by 2024.
Scroll down for a full list of film titles
The company has previously acquired and launched 10 films under its Sky Original banner, ranging from family features Monster Family and The Secret Garden to terror attack drama Hotel Mumbai and crime drama Extremely Wicked, Shockingly Evil And Vile. More recent titles include Blithe Spirit.
But this ramp-up to at least two new original films every month will also include features commissioned and majority financed by Sky, the first of which is Save The Cinema, starring Samantha Morton, Jonathan Pryce and Tom Felton. The feel-good drama, revealed by Screen last week, is being shot ahead of a release on Sky Cinema in late 2021.
The other newly announced features to receive a Sky Original banner have been acquired, with around half of the 30 titles revealed today. They include music biopic The United States vs. Billie Holiday; A Boy Called Christmas, adapted from Matt Haig's best-selling children's book; and Robert De Niro crime comedy The Comeback Trail.
But the balance will shift more toward titles commissioned or co-produced by Sky, according to Zai Bennett, managing director of content for Sky UK and Ireland.
"Our upcoming slate is more acquisition led but, over time, that will change and become more commissioning and co-production led," said Bennett. "At a certain budget level, we will be the majority financier, taking world rights and exploiting it with the producers once it has been made. On others, at the $15m or $20m level, they were more likely to be co-productions."
Bennett also highlighted the need to best serve Sky's subscribers at a time when the competition is increasing. "We need to have something for Sky Cinema subscribers that's exclusive, it's as simple as that," he said. "Sky Cinema has traditionally has an amazing array of studio deals. Some of those, like Disney, are going direct to consumer so we have to make sure that subscription still has big value for our subs. This is the way we can add to what we already offer."
Bennett also confirmed all Sky Original films will be released in the UK on Sky Cinema first or day-and-date. "We're massive fans of theatrical and a big part of our business is based on the success of theatrical and the studios supplying us films," he said. "But no Sky Original will have an exclusive theatrical window. They need to be exclusive to Sky Cinema to provide value to those subscribers. We're trying to make sure Sky Cinema is the best home cinema service in the world."
Among the TV originals is Michael Winterbottom's This Sceptred Isle, in which Kenneth Branagh will play Boris Johnson and explore how the UK prime minister and his government handled the Covid-19 outbreak. The five-part drama, first revealed without a broadcast partner or lead actor last summer, will be produced by Fremantle, Passenger and Winterbottom's Revolution Films, and is set to debut in autumn 2022.
Sky Originals 2021 (Film)
The United States vs. Billie Holiday
Dir: Lee Daniels
The Glorias
Dir: Julie Taymor
Creation Stories
Dir: Nick Moran
Six Minutes to Midnight
Dir: Andy Goddard
Antebellum
Dirs: Gerard Bush, Christopher Renz
Breaking News in Yuba County
Dir: Tate Taylor
The Secrets We Keep
Dir: Yuval Adler
Kindred
Dir: Joe Marcantonio
Extinct
Dir: David Silverman
Every Breath You Take
Dir: Vaughn Stein
The Comeback Trail
Dir: George Gallo
Monster Family 2
Dir: Holger Tappe
Save The Cinema
Dir: Sara Sugarman
A Boy Called Christmas
Dir: Gil Kenan
Jolt
Dir: Tanya Wexler
These join previously announced original films, including Twist, starring Michael Caine; Dragon Rider, voiced by Felicity Jones and Patrick Stewart; and To Olivia starring Hugh Bonneville and Keeley Hawes.