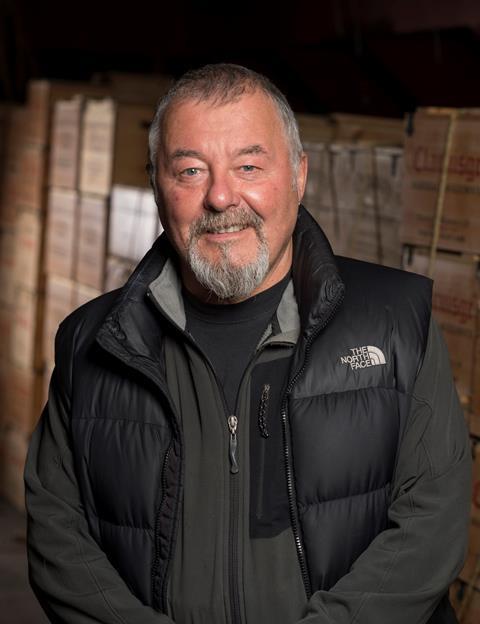 Alan J. 'Willy' Wands, a producer of The Magdalene Sisters and detective series Rebus, died yesterday in Glasgow aged 67. He had been diagnosed with cancer.
An outspoken advocate of the Scottish production industry, Wands had more than 35 feature film credits and numerous TV drama series to his name.
Born in Ayr, on the west coast of Scotland, he started his career in the 1970s in theatre before moving into screen work as an associate producer on features including Mike Figgis' 1988 crime drama Stormy Monday and David Hayman's 1990 gritty drama Silent Screen.
Wands went on to executive produce the hit comedy drama East Is East, which debuted at Cannes in 1999; line produce Bill Forsyth's Gregory's Two Girls; co-produce Terence Davies' The House Of Mirth, which screened at Toronto in 2000; and co-produce Peter Mullan's The Magdalene Sisters, which won the Golden Lion at Venice in 2002.
He was also an accomplished assistant director on films including Paul W.S. Anderson's Shopping, starring Jude Law, Shekhar Kapur's Elizabeth: The Golden Age, TV drama series The Borgias and more recently coming-of-age drama Beats.
In recent years, Wands worked as the executive producer and line producer on UK box office hit The Gentlemen, directed by Guy Ritchie; was the producer of ITV crime drama The Loch; and was a producer of Gillies MacKinnon's 2016 remake of Ealing classic Whisky Galore.
He also served as the production supervisor on Liam Neeson action thriller Unknown.
Tributes
Paying tribute, UK producer Iain Smith (Children Of Men, Mad Max: Fury Road) told Screen: "I first met Willy when he worked on Restless Natives back in the mid-1980s. He was immediately likeable, and passionate, with a winning smile and a quiet determination to make films in spite of his humble beginnings.
"We remained good friends over the years, and almost came close to working together a couple of times. Willy was known for not 'taking any prisoners', and somehow managed to do this in a way that made everyone love him. A valuable asset for a producer. Everybody loved him. He will be sorely missed."
Unit production manager Stephen Burt worked with Wands on TV drama series including Young James Herriot and Field Of Blood, before securing him as a first AD on Into The Badlands and The Borgias.
"We are all going to miss Willy terribly, not just as a producer but as a friend and mentor to so many of us," said Burt. "He gave so many of us our starts over the decades and lifted many others up a level just by listening and following his sage advice. He was well known and highly regarded all over the world.
"Willy had that rare intuition for film making and was always thinking several moves ahead of the rest of us. I will miss not having him at the end of the phone to give me his opinion, but mostly I will miss his humor, friendship and sense of mischief that helped get us through the toughest of days."
Brian Donovan, who came up with Wands and was more recently unit production manager on Allied and King Arthur: Legend of the Sword, served alongside Wands on the membership committee of the Production Guild. "Willy, above all, was grounded and never allowed the heady heights of international feature film making to turn his head," he said. "Ultimately and always he was - in his own words - 'a small working class boy from Maybole who wanted to work in movies'. And he let everybody know that.
"Working in many different countries his generosity of spirit and uncompromising professionalism won friends wherever he went. He was an outstanding ambassador for the British industry. He will be missed greatly by those who knew him. His unique dynamism, charisma, and relentless and all-welcoming humanity set him apart. He was the flower of Scotland's film industry. We may never see his likes again."
Harry Potter actor Sean Biggerstaff, who starred in Whisky Galore, wrote on Twitter: "Willy Wands is away. He was an absolute one-off. By far the most comprehensively capable producer I've ever encountered and a total maniac in a brilliant way. Seemed immortal to me. Tragic timing as his wake, under normal circumstances, would be one for the ages. RIP. x"
Actor Eddie Marsan also paid tribute on Twitter and said: "One of the best from British cinema, Willy Wands has passed away. I worked with him as a producer on Jonathon Strange and Mr Norrell. He was as straight as a dye, called it as it was and hilariously funny. One of those people who make you proud to be in this profession."
Wands died peacefully at his home in Glasgow and is survived by his wife and two daughters.