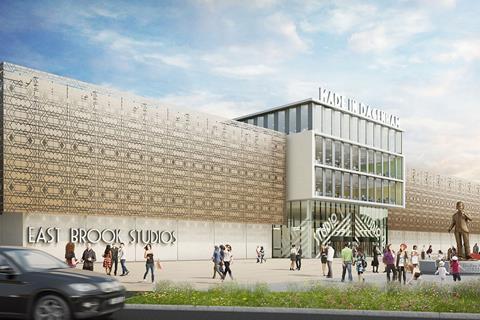 Plans for a £110 million film studio complex in Dagenham, East London were granted unanimous approval from Barking and Dagenham council last night (July 6).
The complex on the 22-acre former Sanofi pharmaceutical factory site will feature 140,000 sq ft of sound stages, 85,200 sq ft of offices and 174,500 sq ft of workshops.
The decision came nine months after the project's original backer, Pacifica Ventures, pulled out citing Brexit concerns.
However, Barking and Dagenham Council's regeneration company Be First, overseeing the development of the studios, pressed on alone and is still in talks with potential joint venture partners. It has released £3.4m to cover any pre-development costs.
Over the past five years the council has built up its own film unit and has attracted projects such as Avengers: Age Of Ultron, Black Widow and Black Mirror.
The town hall estimates the studios will bring an initial 1,200 extra jobs to Barking and Dagenham.
Adrian Wootton, chief executive of Film London and the British Film Commission, said: "Prior to the coronavirus pandemic the UK screen industries were enjoying an exceptional boom time and we're committed to driving the sector's recovery."