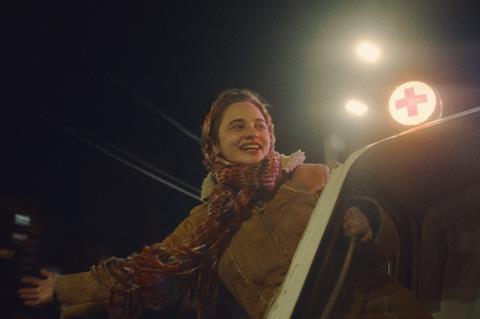 Paris-based Urban Sales has acquired global rights to writer-director Tonia Noyabrova's Ukrainian coming-of-age drama Do You Love Me? (Ty meme lubysh?) that will world premiere in the Panorama strand at the upcoming Berlinale (Feb 16-26).
Set in 1990, before the Soviet Union collapsed, the story follows a 17-year-old girl emerging from adolescence into adulthood at the same moment that Ukraine transitions from Soviet slavery into the unknown.
Anastasiia Bukovska and Danylo Kaptyukh for Ukraine's Family Production co-produced the film with Jonas Kellagher of Sweden's Commonground Picture, supported by the Ukrainian Film State Agency and Film I Väst.
The film went through the work in progress sections of the Marché du Film's "Ukraine Now" program, the San Sebastian Film Festival and the Stockholm Film Festival for Ukraine in addition to the EAVE in Demand in Ukraine under the mentorship of Diana Elbaum.
Do You Love Me? is Noyabrova's second feature as both writer and director following Hero of My Time that won her a best Ukrainian director prize at the 2018 Odesa International Film Festival.
Noyabrova called the film "a personal story of my growing up and the formation of my generation," adding: "This is my song about saying goodbye to a childhood of illusions and the desperate search for love. I wanted the audience to physically feel how our past is slipping away like sand through our fingers." She said that she hopes the film will "convey the feeling of a bygone era on the screen. An era when your parents were young, and you were rebellious and childishly naive with your big open heart and your whole life ahead of you."
The film wrapped production a year before the premiere and, just five days later, a full-scale invasion began in the region. Producers said they were able to rescue footage from Kyiv as they fled with relatives.
Urban Sales will kick off sales at EFM for what they call a "vibrant, nostalgic, revolutionary tale".
The company will also be at the market with a script for Jean-François Laguionie's animated title Slocum and will unveil the first market screenings for Spare Keys, Amore Mio and Abdelinho plus pitch reels for Into the Wonderwoods and Fox & Hare Save the Forest.