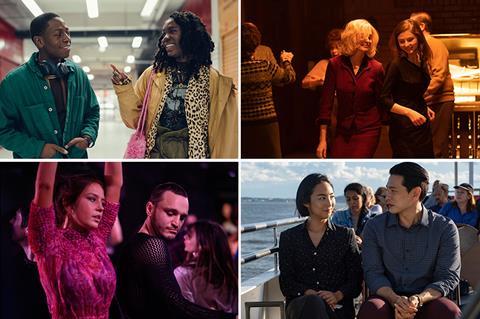 The first fully in-person Sundance Film Festival since 2020 concluded last week with Friday's awards ceremony, which saw A Thousand And One and Scrapper among the major winners.
Screen's critics were also back in Park City, and have picked out some of the titles to watch from this year's festival.
Compiled by Screen International executive editor, reviews and new talent Fionnuala Halligan.
Beyond Utopia
Dir: Madeleine Gavin
Our critic said: "A gripping, moving, sweatily tense documentary that prises open the hidden fiefdom of Kim Jong-un through the misfortunate citizens fighting for their lives trying to escape it."
Past Lives
Dir: Celine Song
Our critic said: "Making an utterly assured feature debut, writer-director Celine Song crafts a rare love story that's both impossibly romantic and crushingly pragmatic, and immediately draws comparisons to Linklater's Before trilogy."
Eileen
Dir: William Oldroyd
Our critic said: "Anne Hathaway and Thomasin McKenzie steam up the screen in William Oldroyd's period noir, a follow-up to his 2016 debut Lady Macbeth."
Shayda
Dir: Noora Niasari
Our critic said: "Amir Ebrahimi gives a remarkable performance in Niasari's powerful, semi-autobiographical debut about an Iranian woman's struggle to extricate herself from her husband — an ordeal that could also mean losing her daughter."
In My Mother's Skin
Dir: Kenneth Dagatan
Our critic said: "Folklore and history combine to chilling effect in this atmospheric horror from The Philippines."
Passages
Dir: Ira Sachs
Our critic said: "Adèle Exarchopoulos, Franz Rogowski and Ben Whishaw make Ira Sachs' latest a sexy proposition in every respect."
The Persian Version
Dir: Maryam Keshavarz
Our critic said: "The combination of exuberant energy, wise-cracking humour and warmhearted emotion makes for a captivating crowdpleaser, as evidenced when this Iranian-American drama won the Audience Award in the US Dramatic Competition."
Scrapper
Dir: Charlotte Regan
Our critic said: "To describe the feature debut from Regan - which took the top prize in the World Dramatic section - as an urban fairytale fails to capture just how unconventional and idiosyncratic is this tale of a father and daughter struggling to connect, with talking spiders and a scrap metal tower to heaven."
Rye Lane
Dir: Raine Allen-Miller
Our critic said: "This London-set feel-good story achieves the Holy Grail of all great rom-coms in making us desperate to see the leads get together for good, while simultaneously not wanting this first flush of romance to end."
The Eternal Memory
Dir: Maite Alberdi
Our critic said: "Alberdi follows up The Mole Agent with this deeply moving story of a couple coping with Alzheimer's disease, which has won the top prize in the World Cinema Documentary section."

Screen International's executive editor for reviews and new talent