Eric Mallory Morgan of UCLA has won first prize in the 61st annual Samuel Goldwyn Writing Awards for his script Tonya.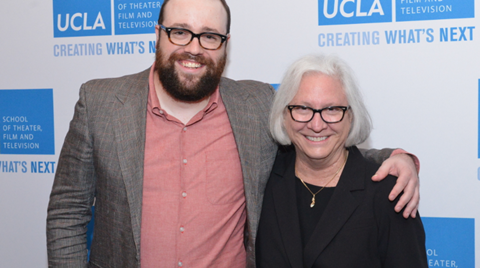 Bennett Fisher (UCSD) and Nicholas Adams (UCLA) tied in second place for Damascus and Falling, respectively.
Third prize went to Dominic Abeyta (UCLA) for 100 Degrees while Meedo Taha (UCLA) earned an honourable mention for Other People.
Morgan is pictured at Tuesday night's ceremony in Los Angeles with UCLA TFT dean Teri Schwartz.
Sundance Institute has awarded more than $1m to Documentary Fund grantees with projects at various stages. Raoul Peck's I Am Not Your Negro, Matthew Heineman's City Of Ghosts and Fredirck Wiseman's EX LIBRIS - New York Public Library are among the recipients. New this year is the Bertha Foundation Fellowship supporting projects that expose injustice and illuminate issues at the intersection of storytelling, law and activism. Click here for the full list of recipients.
Cineplex Entertainment in partnership with CJ 4DPLEX announced on Monday that Canada's first 4DX auditorium will open on November 4. The venue is located at Cineplex Cinemas Yonge-Dundas in Toronto and features 80 motion seats enhanced by environmental effects such as wind, mist, bubbles, snow and scent.
Family Inspired Entertainment launches worldwide sales at the AFM on The Second Coming Of Christ, a family and faith-based title that has earned a seal of approval from the Dove Foundation. Diana Angelson, Jason London, Tom Sizemore and Sally Kirkland are among the cast.