Major US broadcasters are developing more than 20 TV adaptations of feature films as they follow the example of their cable counterparts.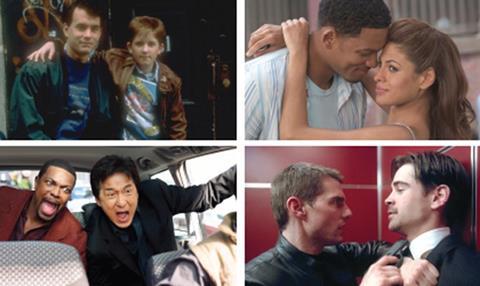 US pay-TV networks have recently found success with the likes of Fargo and Teen Wolf, and have lined up further adaptations of Scream (MTV), Twelve Monkeys (Syfy), Shutter Island (HBO) and Sam Raimi's The Evil Dead (Starz).
Traditional networks - ABC, CBS, Fox, NBC and The CW - are now getting involved and have struck deals for adaptations of well-known films including Big, Minority Report and The Devil's Advocate, as well as more niche films such as John Ritter's Problem Child and Val Kilmer's Real Genius.
The networks have ordered scripts for the 20-plus adaptations and will decide which projects to pilot by January. Those taken to series will likely be ordered in May for an autumn 2015 launch.
UK consultancy firm Tape monitors the US development process for a number of UK broadcasters.
Tape director John Peek said networks were turning to recognised movie brands because the sheer volume of new drama on an ever-increasing number of platforms has made it even harder to cut through.
"The movie adaptation has always been around, but the brand resonance from a recognisable title is more relevant than ever. It's an understandably attractive asset in the battle to attract viewers," he said.
This year's new comedies have particularly struggled and Selfie, A To Z, Bad Judge, Manhattan Love Story and Mulaney have already been cancelled. Krysten Ritter-fronted Mission Control was axed before its premiere.
In response, the networks have turned to adaptations of funny films, and Fox's version of the 1988 Tom Hanks comedy Big is one of the standout projects. It is written by Enlisted exec producer Kevin Biegel, who co-created Cougar Town, and Mike Royce. The sitcom is being produced by 20th Century Fox Television and will look at what it means to be an adult and a kid in today's world.
In addition to Big, Fox is working with Will Smith on a new version of romantic comedy Hitch, written by Made Of Honour pair Deborah Kaplan and Harry Elfont, as well as Monster-In-Law, a Warner Bros-produced take on the Jennifer Lopez and Jane Fonda family fallout flick. The latter is written by The Carrie Diaries' Amy Harris and 30 Rock's John Riggi.
ABC is developing a Universal TV-produced version of John Candy family comedy Uncle Buck and a 20th Century Fox-produced version of Tom Hanks' Bachelor Party, while NBC has a spin on Jennifer Aniston comedy Marley & Me, which is produced by 20th Century Fox Television.
CBS is developing a Warner Bros-produced reboot of Jackie Chan and Chris Tucker film Rush Hour with director Brett Ratner and Scrubs creator Bill Lawrence. Away from comedy, the networks are looking to take advantage of recent high-profile films with built-in audiences, building on successes such as The Avengers spin-off Marvel: Agents Of S.H.I.E.L.D.
Fox is developing a sequel to the Steven Spielberg/ Tom Cruise sci-fi feature Minority Report, written by Godzilla writer Max Borenstein. The new version has a female lead and is set 10 years after the end of the film.
CBS is working on a follow-up to Bradley Cooper thriller Limitless, which will be produced by sister studio CBS TV Studios and Star Trek producers Alex Kurtzman and Roberto Orci.
Youth-skewing broadcaster The CW is plotting a new version of Ed Norton's period magic drama The Illusionist from CBS TV Studios and Ben Silverman's Electus, while NBC is taking on Warner Bros' Al Pacino and Keanu Reeves-fronted The Devil's Advocate from The West Wing and ER producer John Wells.
Not all film-to-TV projects have proved successful. Small-screen versions of Timecop, The Client, The Magnificent Seven and The Net have all previously failed to make an impact.
Tape's Peek said: "Just because the source movie was a success doesn't mean it will automatically translate into TV success. Movies are about story, while TV series are about characters - a subtle but crucial difference."
The successful orders will be screened to British buyers at next year's LA Screenings and could end up on UK screens in the final quarter of 2015.
Photo by: Kobal Collection